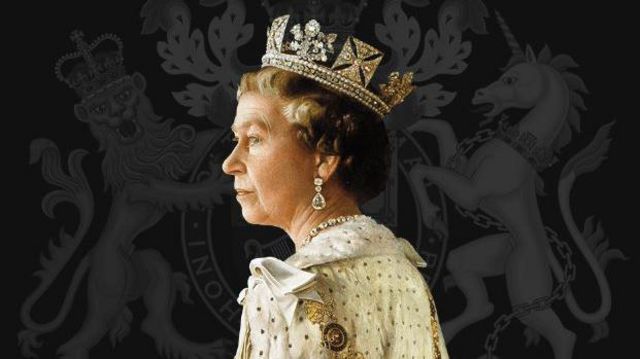 Queen Elizabeth II, Britain's longest reigning monarch, has died at the age of 96. 2. Elizabeth was on the throne for 70 years.
"The Queen died peacefully in Balmoral this afternoon," Buckingham Palace said in a statement.
After the news announcing the death of Queen Elizabeth II on the BBC screens, the national anthem was played, accompanied by the Queen's photographs.
The people gathered in front of Buckingham Palace in London burst into tears when the news of the Queen's death was heard.
The UK flag flying in front of the palace was lowered at half-mast at 18:30 local time.
In a statement in front of the Prime Minister's Residence, Prime Minister Liz Truss said that the death of Queen Elizabeth II had shocked both the UK and the world.
"Queen Elizabeth II was like the rock on which modern Britain was built. If Britain is a great country today, it's because of her," Truss said.
The Royal Family began to gather at Balmoral Farm in Scotland after Buckingham Palace said the Queen's health was worrying.
Queen Elizabeth II came to the throne in 1952, and during her 70 years of rule, she witnessed great social changes.
With the death of Queen Elizabeth II, her eldest son Charles, the former Prince of Wales, became the new king and head of state of the United Kingdom.
In the statement of Buckingham Palace, it was stated that King Charles III and his wife will stay in Balmoral tonight and will return to London tomorrow.
All of her children had gone to Balmoral after the Queen was placed in medical custody.
While his grandson, Prince William, was accompanying his family in Balmoral, it was stated that Prince Harry was also on the way.
As the head of state of the United Kingdom, Queen Elizabeth II witnessed the post-World War II downturn years, the transformation of the British Empire, the end of the Cold War, Britain's accession and withdrawal from the European Union.
During her 70-year reign, the Queen authorized 15 prime ministers to form governments, beginning with Winston Churchill.
Finally, this week, Liz Truss received authorization from the Queen to form the government in Balmoral.
Queen Elizabeth II was born on April 21, 1926 as Elizabeth Alexandra Mary Windsor in London's Mayfair district.
He didn't seem to have any chance of actually ascending the throne.
However, in December 1936, after her uncle, King Edward VIII, abdicated to marry the American Wallis Simpson, Elizabeth's father took over the throne as King George VI.
Thus, Elizabeth, known as Lilibet in the family, began to be seen as the heir to the throne at the age of 10.
Three years later, Britain went to war with Nazi Germany.
Elizabeth and her sister, Princess Margaret, began to spend most of their time at Windsor Castle.