world
The citizen, whose purchasing power has decreased, has also done this in the market. Here is the situation where the cost of living lowers people
A video shared on social media was mind-blowing. The incredible barcode game performed by a customer was revealed in the images recorded in a market.
In the images recorded by the market employee, a customer allegedly took a barcode that he prepared at home and cut from cheap products and pasted it on the barcode of the product in the market, unnoticed.
In the video, it was stated that with this method, an attempt was made to purchase a 100 lira product for 2.75.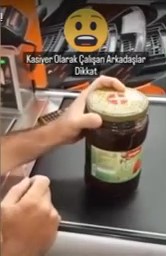 The cashier noticed
The incident in question was noticed by a cashier working in the market. It was reported that after the intervention by the market employees, the person who carried out the incident acted recklessly as if he had not carried out the incident.
In the videos, it was stated that the cashier who caught this event was given a prize of 100 TL, which is the price of the jam.
CITIZENS WITH LOW PURCHASING POWER ARE HELPED
The deepening economic crisis is getting worse. Citizens whose purchasing power has decreased are struggling with price hikes. Every day, long queues form in front of people's bread. In order to buy bread, sugar and oil cheaper, there is a queue for hours. Even if the minimum wage is 5,500 TL, the salaries melt into the bills without going into the pocket. The helpless citizen is brooding.
.