class="medianet-inline-adv">
THEY MADE DRESSES WITH SPRAY PAINT
To remember that fashion show that took place last weekend and was engraved in the memories… Bella Hadid, stepped on the podium in one-piece underwear and high-heeled white shoes. Then the two designers started spraying a special mixture prepared on Hadid. A dress formed over the half-naked Bella. Then another attendant came and made the final touches of the spray-painted dress. He lowered his shoulders. She cut a deep slit with scissors in her hand. When the "spray outfit" on her was completed, Bella Hadid walked the runway and introduced her.
HERE'S THE SECRET OF THAT DRESS
The audience watching the creation of the dress on Hadid was also amazed by this interesting show. What about the dress that Bella Hadid created with spray paints, actually? How did it suddenly appear, and in appearance it was no different from a real dress sewn from cloth? How did Bella Hadid then take off that dress that covered her whole body? These were the questions that came to mind the most after that fashion show. Let's take a closer look at that spray dress.
class="medianet-inline-adv">
THEY FOLLOW NOT ONLY FASHION, BUT ALSO SCIENCE AND TECHNOLOGICAL DEVELOPMENTS
Let's start with the name of the company that dressed Bella Hadid with spray paint: Coperni… Founded in 2019 by Arnaud Vaillant and Sebastien Meyer, the company takes its name from Copernicus (Copernicus), one of the famous astronomers of the Renaissance period. Although it is a fashion firm, it is inspired by science, progress, innovation and technological developments.
GLASS BAGS ARE ALSO TALKED: By the way, let us remind you right away… The fashion company, which presented a show that will not be forgotten for a long time at Paris Fashion Week, was also discussed last year with its handcrafted glass bags. One of the fans of these bags was Kylie Jenner.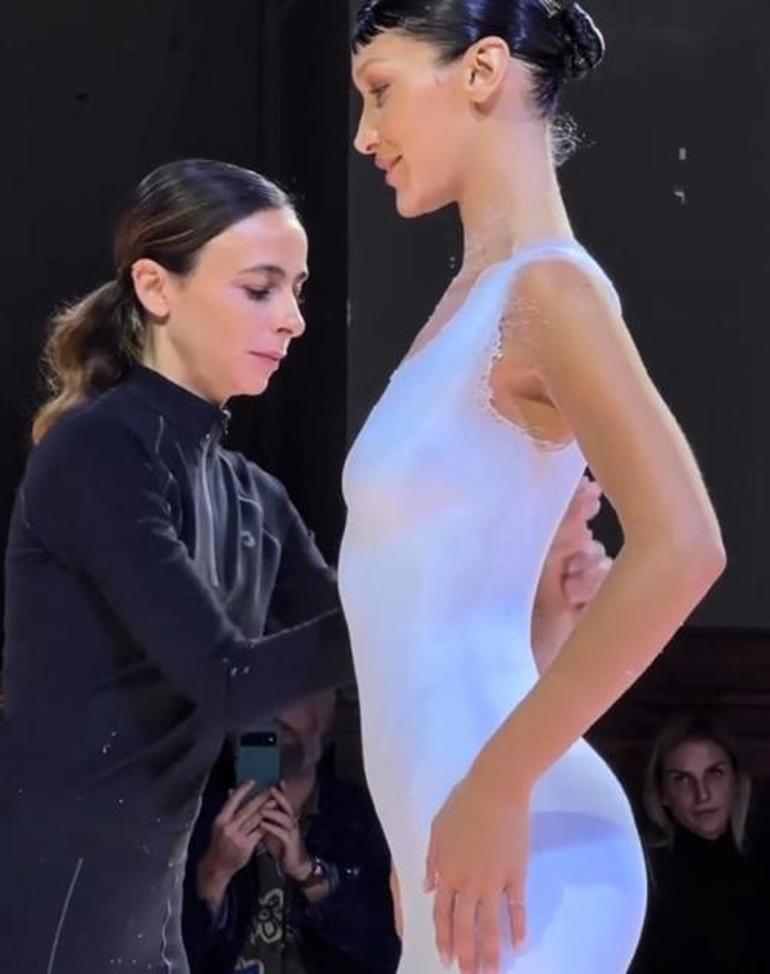 CONTAINS FIBERS
Now, back to Arnaud Vaillant and Sebastien Meyer's spray dress. The duo collaborated with Spanish fashion designer and scientist Manel Torres to develop this dress. This spray was developed at Torres' Center for Bioscience Innovation in London. As seen during the creation of Bella Hadid's dress, the spray contains fibers suspended in a polymer solution that evaporates as soon as it comes into contact with the human body.
class="medianet-inline-adv">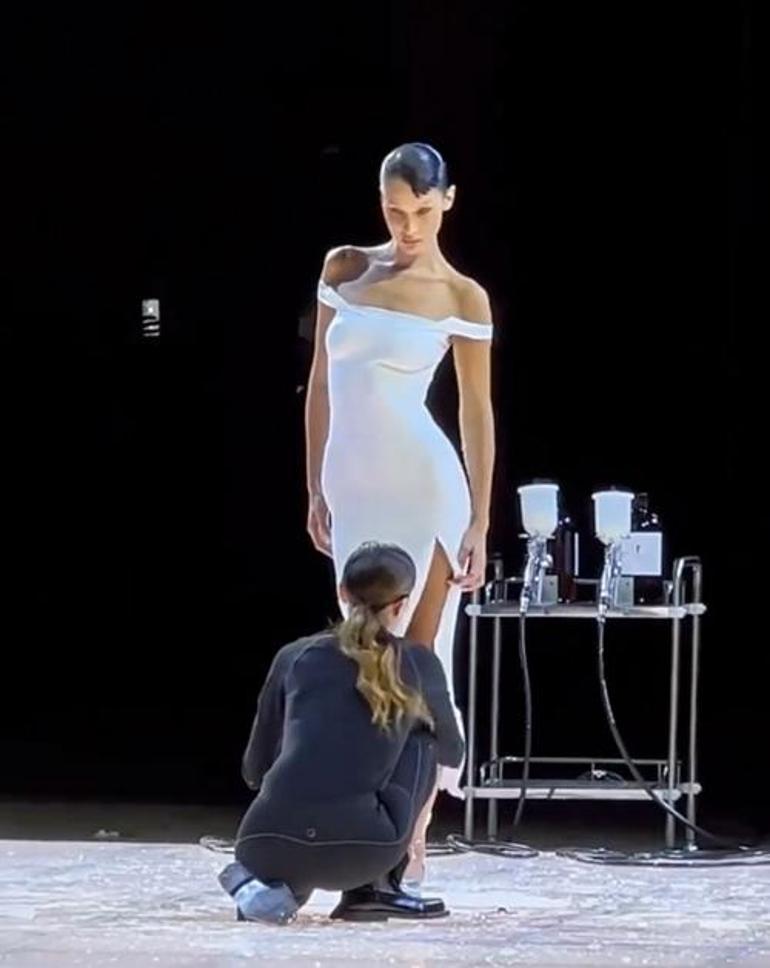 CAN BE LIQUID AGAIN
This dress, which is created with the spray technique, that is, the spray paint that creates it, can then be turned into a liquid again. Of course, then again, and perhaps in a way that allows another dress to be created.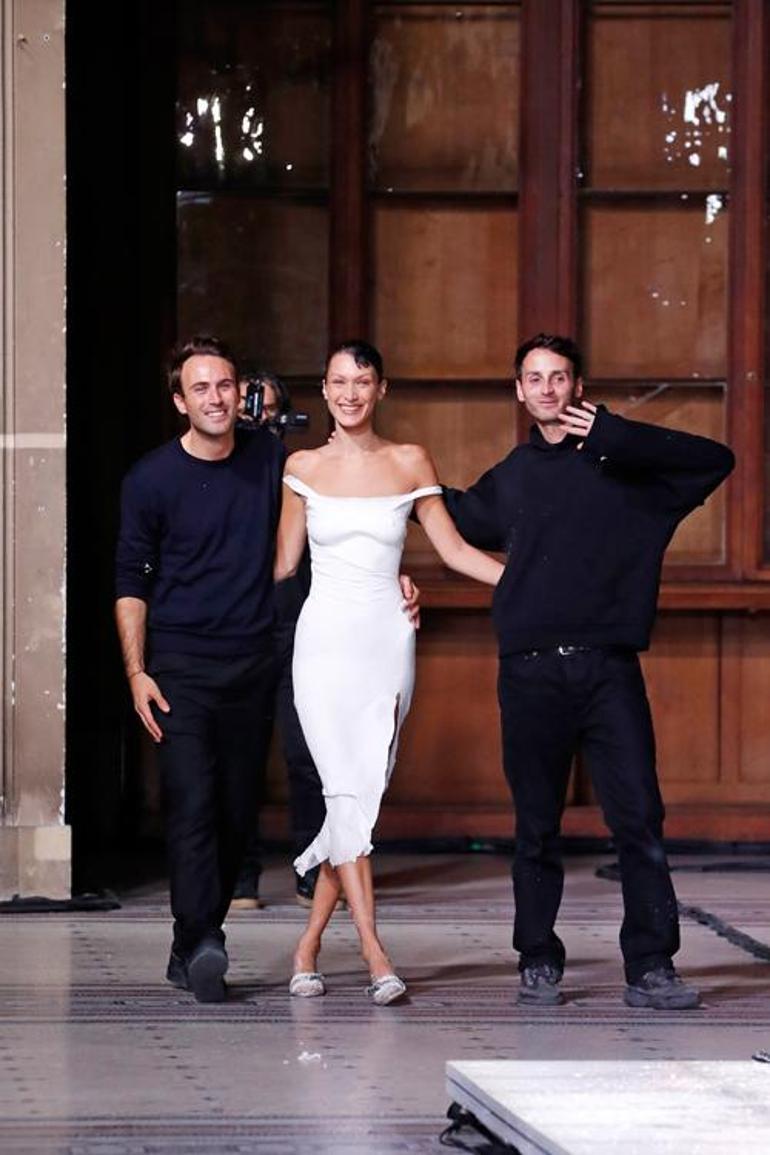 'SEEING POSSIBILITIES IN THE FUTURE…'
Designer Sébastien Meyer, one of the creators of the white dress created on Bella Hadid, also gave hints about the future of fashion: "It is our duty as a designer to try new things and show the possibilities for the future."

'A FEELING EXPERIENCE'
according to Meyer Paris Fashion WeekThis experimental outfit they introduced in . Because, again, according to Meyer, "the moment when a dress is created with spray paint is a beautiful moment and an emotional experience."
class="medianet-inline-adv">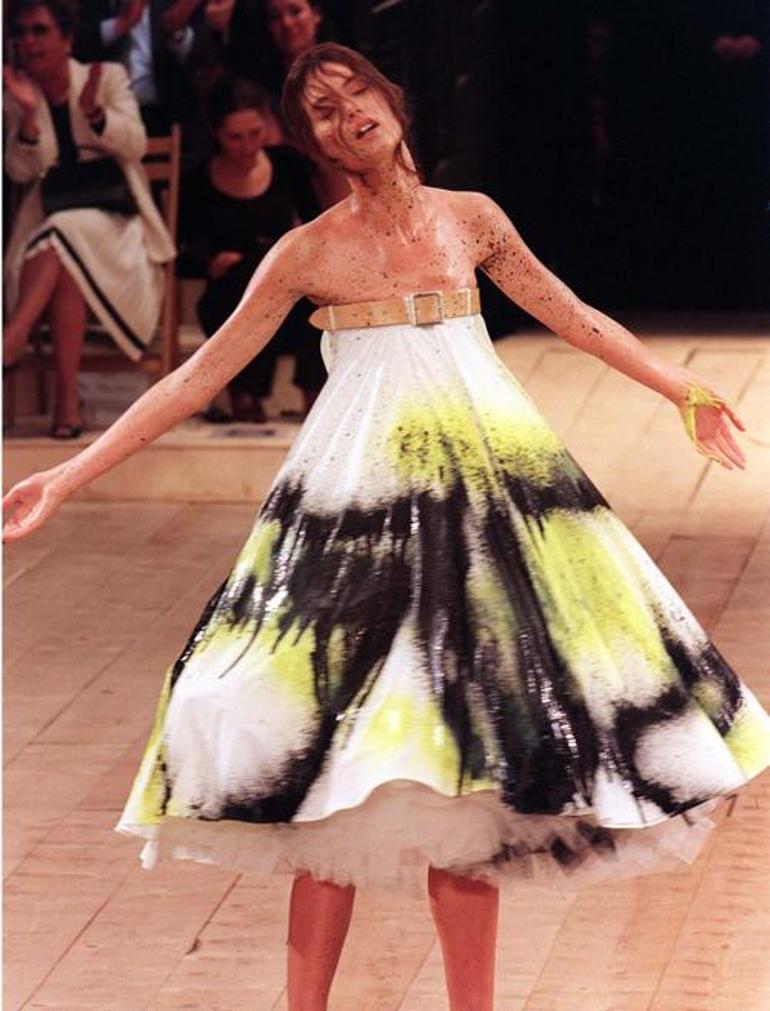 YEARS AGO REMEMBER THE FASHION
Meanwhile, those moments created by the two designers while modeling Bella Hadid brought to mind another experimental fashion show years ago. In 1999, while Alexander McQueen's spring collection was being introduced, black patterns were created with spray paints on model Shalom Harlow's white dress. In other words, the audience at that fashion show did not watch the creation of a dress with spray paint, but the drawings made on the fabric. This runway show at Paris Fashion Week took that experience 23 years ago one step further.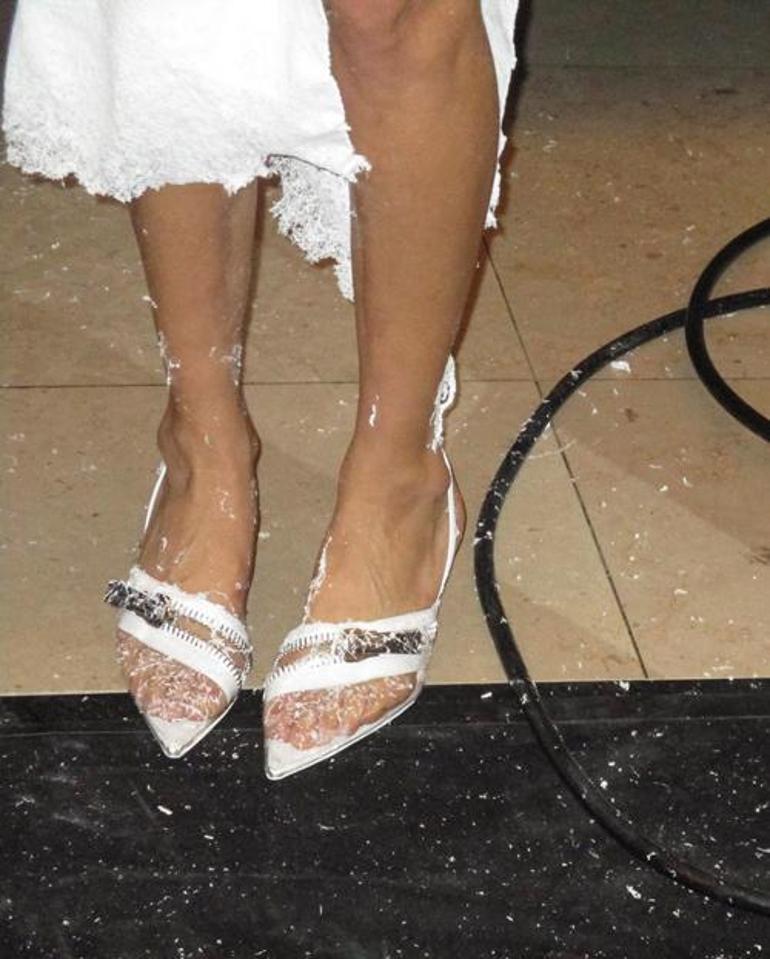 class="medianet-inline-adv">
FASHION AND TECHNOLOGICAL DEVELOPMENTS WILL GO HAND BY HAND
By the way, let's remember Nicolaus Copernicus, the inspiration for the name of the Coperni company, which will apparently be talked about a lot in the future with its experimental designs…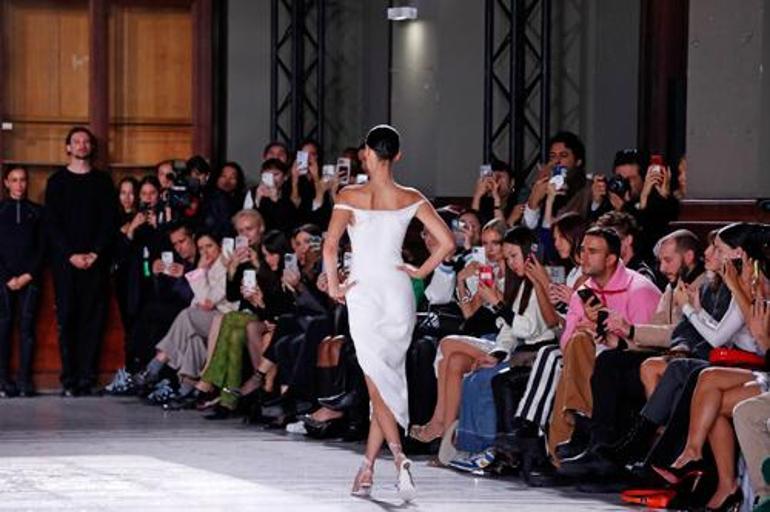 THE COMPANY TAKES NAME FROM THE FAMOUS ASTRONOM
Nicolaus Copernicus or Nikolas Copernicus was born in 1473 in Royal Prussia, a region in the then Kingdom of Poland, and died in the same place. Copernicus had a doctorate in canon law and was a doctor without a degree. Bilingual Copernicus was also an economist who formulated a version of Gresham's Law in 1519 before Gresham.
Nikolas Kopernik described the Solar System in his masterpiece entitled "De revolutionibus orbium coelestium" (On the Revolutions of the Celestial Spheres). He defended the law of heliocentrism, which states that planets move in fixed orbits with the Sun at the centre. Published shortly before Copernicus' death in 1543, this book marks the beginning of the astronomical model called "Copernican heliocentrism" and marks a turning point in the history of science by being cited as the starting point for modern astronomical and scientific developments.
PHOTOS: AVALON, AP, AFP
.