world
A good man: Abdullah Gul
We get it, you're fine.
but what is your goodness for?
No one can buy you
lightning falling on the house
cannot be purchased.
We said we understood,
but what are you saying?
It's true, you say what you think,
but what do you think?
You are hearty,
against whom?
you are smart,
benefit to whom?
You do not care about your own interests,
So, who is it that you're looking after?
There is nothing to say to your friendship,
who are your friends?
Talking about Abdullah Gül through Bertolt Brecht is probably a bit ridiculous, if Brecht had seen it, he would not have liked it at all… But there is a way from this poem of Brecht to Abdullah Gül. So at least I think so…
Whenever Abdullah Gul is mentioned, about him, "was good", "was honest", "didn't steal", "not like Tayyip Erdoğan or other AKP members" If it is said, Brecht's notions of good and evil come to mind.
According to Brecht, society cannot be judged as good or bad, society is the sum and result of social structure; for example, The Threepenny OperaIn . "What is robbing a bank besides opening a bank… What is it that a person is sentenced to death compared to being a civil servant…" (1) says and suggests: "Bread first, morality second…" (2)
On the other hand, for people walking in front of society (both bourgeois statesmen or revolutionary militants, it doesn't matter) being good or bad is not a social issue but a matter of willful choice; "one or two questions for the good guy" (3) this is exactly why he wrote his poem. "petty-bourgeois opportunists" He writes in reference to the socialist circles he calls, who try to define good-evil in terms of socio-traditional moral norms.
….
Abdullah Gül; or if we had a humble neighbor in a conservative timeshare, who lit up us with his life experience and gave advice towards goodness, sifted his flour and hung his sieve on the wall; or, as Zizek said about Hitler, if he had been a decent family member who, despite his wealth and education, would bow respectfully and kiss their hands when he saw his elders, he would probably have thought of himself. "a good man" it deserved to be called.
However, the matter is more complex. Abdullah Gül, the 11th President of the Republic of Turkey… After the conservative vein of the Second Constitutional Monarchy shifted gears in the early republican days (4), with the dexterity of the Anti-Communist Associations in the 1960s and the National Turkish Student Unions in the 1970s, he moved to the provinces and provinces of Turkey. One of the rarest roses of poison ivy, grown in the nooks of the state, carefully preserved by many imperialist centers.
Standing at the center of Turkey's darkest events since 2015, Fehmi Koru (known as the theoretician of the community for years, but returned to the state on order) and Şükrü Karatepe (architect of the presidential system and new constitution) from Exeter (5), PhD and roommate ; In 1978, first lieutenant Hulusi Akar (former Chief of General Staff and now Minister of National Defense) comes to visit them, they hang out in England for a few days.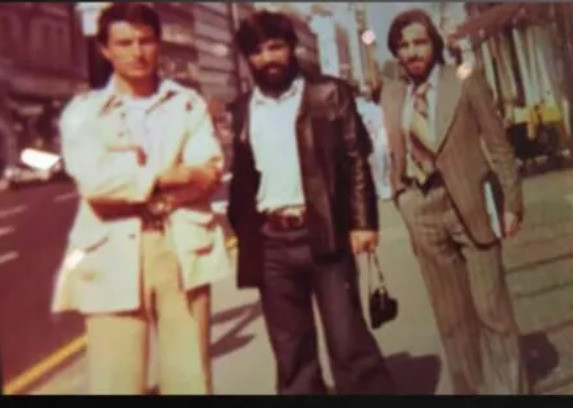 In other words, while Abdullah Gul's name was mentioned for the presidency again in 2018, it is not incomprehensible that Hulusi Akar and İbrahim Kalın went to visit Abdullah Gul, this time by helicopter. Hulusi Akar is another Kayseri native and they are close enough to visit Gül while she was a student…
The larger loop connecting these names is Necip Fazıl, who Abdullah Gül was the Kayseri representative of the Necip Fazıl school during his student years in Kayseri. Willow Idea Cluband had close contact with its representative, Ali Biraderoğlu.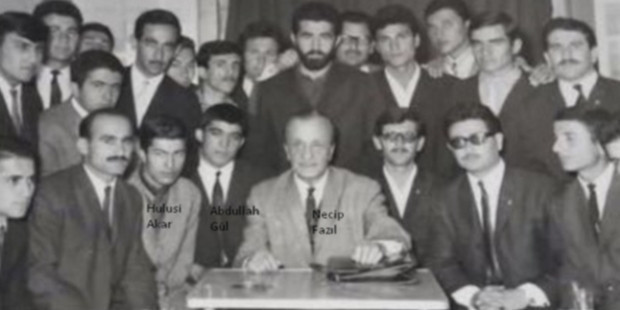 After completing his doctorate, Abdullah Gül was arrested for a short time by the September 12 regime and later worked as a consultant and manager of many Saudi Arabia-based financial institutions in Turkey and around the world; From the mid-1980s, he taught at the Sakarya campus of ITU, and then he conducted politics within the RP, and became a member of parliament from Kayseri several times.
When the RP was closed and turned into the Virtue Party, he became the presidential candidate in the congress as the representative of the 'innovative' team that would later become the AKP, and after losing against Recai Kutan, Tayyip Erdoğan, Cemil Çiçek, Bülent Arınç, Abdülkadir Aksu, Kemal Unakıtan, İsmail Kahraman, He became the founder of AKP together with names such as Ali Babacan and Ahmet Davutoğlu.
His political life led him to the position of foreign minister (EU negotiator), prime minister and president.
He spent a lot of time after 2002, especially in order to pass the 1 March (2004) memorandum as desired by the USA, so his political opponents branded him as ABDullah Gül for a while… Afterwards, in the invasion of Iraq, the Arab Spring and the Syrian civil war, Abdullah Gül As an officer of the AKP, the USA and the Greater Middle East Project, of which .
In all his duties since 2002, he has been involved in the neo-liberal program prepared by Kemal Derviş (privatizations; suspending Turkey's production, especially in agriculture and animal husbandry, and turning it into a market; liquidation of the social state; liquidation of trade unions; substitution of public personnel by contracting/subcontracting; making the private sector a porter, etc.) is the third important name of the loyalty shown together with Ali Babacan and Kemal Unakıtan.
Abdullah Gül received many honors and medals from different countries as long as he served as the 11th President. But none of them, during his tenure, Cankaya Notary Public It's not as deserved as its title. Abdullah Gül, because, during his tenure, he approved 882 of the 886 laws (ie 99.54 percent of the laws that came before him) of the 886 laws passed by the Grand National Assembly of Turkey, perhaps to the extent that it will go down in the history of the world beyond the history of Turkey. Even in today's one-man regime, Tayyip Erdoğan himself opposes, corrects and even suspends the laws and decrees that he has enacted.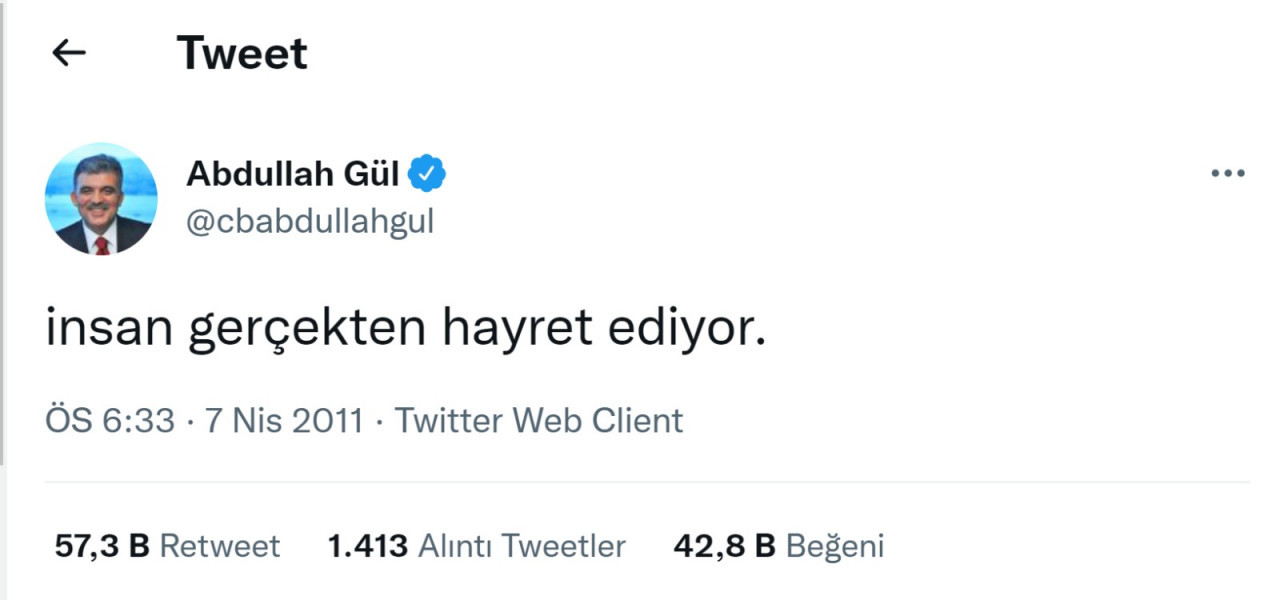 Abdullah Gül, as I tried to explain in his genealogy above, is known as a good person, although he is one of the conservative world representatives of different imperialist groups that have plans on Turkey beyond the AKP. Maybe the lesser evil. In this regard, his education, not only his magnanimity, but also his wife's erudite knowledge, his keeping his family in the background, his name not involved in any theft story (not counting the RP's lost million case dropped when he became President), his name is used in every election period in Turkey. He brings Turkey to the agenda again as the name that will save Tayyip Erdoğan.
So what are the calculations behind this nice guy's constant assertion of leftover food, like being pushed around by the waiter?
If the AKP loses, they will want to lose to Abdullah Gül, so that the possibility of not accepting the election results will disappear. The alliance that the AKP established with the MHP together with Abdullah Gül will be forgotten, and the Kurds will be able to vote for Gül with peace of mind. fearful and worried conservatives will easily vote for Abdullah Gul… If the candidate of the Nation Alliance is Kılıçdaroğlu, the people of Turkey will never vote for a Kurdish-Alevi person. He did not attack from the opposite side, did not personalize the political, did not divide the politics, like Tayyip Erdoğan.
Some of these are apparently true, but in reality all are false. First of all, Abdullah Gül is a part of a political setup. Let's give an example to make it more understandable; If Abdullah Gül was a character in Puzzo's novel The Father, the family's stepchild and his advisors (Consulier) Tony Hagen [Tom] but there are also politicians, bankers, hitmen, governors, journalists, clergy in that world (I leave the distribution of other characters to the reader's creativity).
After all, Abdullah Gül is ready to give up at the first difficulty, I don't want to put it in my pocket… Or, when he was a political subject, he did not attend the August 30th, or at least enjoys being known by the public as not participating (7); now, his side saying that I actually participated in the 30th of August, "Isn't there anyone who invites Abdullah Gül to the stage (8)?" We can understand once again by looking at the way he smells the air and plays with the wind; Abdullah Gül is not even a freshwater captain. If we say by emulating Demirel, however, Abdullah Gül is not the captain, but the ship itself, perhaps at least its sail.
If we look at the 30 August muttering, this is the will of Abdullah Gül, which seems to be surrendering the will of Turkish conservatism into the hands of others, as if it were involuntary, while Tayyip Erdoğan is someone who seems like an absolute will, but is in fact so powerful that he can hire the will of others. "I actually on August 30…" The disclaimer, which started with an average of 15 years overdue, is not the lesser evil of Turkey's social democracy or central politics, but a call not to give another chance to the lesser evil of Turkish conservatism, which has hunted enough to hibernate.
Moreover, the murmuring tone in this call is not the exaggerated courtesy of a shy politician, it is the wish of Abdullah Gul to make this call appear as though it was made from us to Abdullah Gul rather than towards us, a mortgage on the will of roughly 60 percent of Turkey. request to put…
Let's go back to the beginning, namely the problematic of good and evil, but let's go through the door we entered with Brecht, through another older German, Kant. Kant, in his famous article in which he asks the question of what is enlightenment, including good and evil, means enlightenment. "The initiation of the free man who dares to take back the personal will he has handed over to another…" define as.
Abdullah Gül is, first of all, a person who has not been able to solve the issue of will, moreover, has complicated it. "I actually on August 30…" the maturity level of his humming in terms of will, "I didn't do it Miki did it" The great impoverishment of the Turkish people, the devastation of the Middle East, the continuation of the Kurdish issue, the surrender of the country to the mafia or the mafia becoming a state, the sects taking over all state institutions, the far-flung groups, especially Alevis and LGBTI+s. Considering that the threats against him have become more severe and realizable than ever, I personally wish that Abdullah Gul's illness on August 30 would have been a fault…
As a result, Abdullah Gül is a good man, perhaps as a neighbor, as a father, as a wife, as a colleague; but we are not his neighbor, family, colleague; with his contributions, he became impoverished and insecure; insulted five times a day by politicians, police chiefs, trolls, whistleblower teachers; we are the members of a people who have turned from citizens to subjects, from citizens to subjects; We are witnesses in both worlds that he is a bad politician and a bad statesman.
(1) Brecht, Bertolt. The Threepenny Opera
(2) Brecht, Bertolt. Poetry "How Man Lives".
(3) Brecht, Bertolt. "One or Two Questions to the Good Guy".
(4) Actually, what I mean by downshifting is the state of not refraining from going into every color to keep the mirror clean, as in Sheikh Galib's saying, "Do not give color to any color you paint/ don't give jeng to Mir'at-i safa".
(5) This Exeter is obviously the Switzerland of the Turkish conservatives. Who, who has received education, has a doctorate.
(6) During his presidency, Abdullah Gül returned only 4 (four) laws to the parliament for discussion. One of these 4 laws is the Sworn Financial Advisory Law, the other is the Electronic Communications Law, the third is the unemployment law and the last one is the Match-fixing Law.
(7) A similar story applies to Deniz Baykal. Despite all warnings, Menderes joins the actions against Adnan Menderes with the code 555K. A student grabs his collar during the protest and shouts 'We want freedom', and Menderes responds, 'You are holding on to the Prime Minister, my son, what more freedom?' The rumor that this student is Deniz Baykal has been talked about for years, Baykal has also claimed the political rant of this talk for years, until things changed in the AKP regime and after Menderes and his friends became the apostles of democracy, Baykal explains that that student is not himself…
(8) Along with Abdullah Gül, there is also the invitation of İlhan Kesici to the stage, which is a subject that deserves to be written and thought about…