sport
60 million Euro divorce between Mauro Icardi and Wanda Nara
class="medianet-inline-adv">
Homes, cars, companies. Galatasaray's new transfer, Mauro Icardi, is now preparing to divorce his wife Wanda Nara Wanda Nara, who is also her manager, recently announced on her social media account that they had ended their marriage with Icardi. This shocking separation found wide coverage in the media, especially in Argentina, the country of the duo, and Italy and France, where they played. Of course, the wealth that the two will share as well as their separation has already started to be talked about. While it is said that the wealth to be shared is 60 million Euros, the fact that the two have not yet reached an agreement will bring along a painful period.
Companies on Wanda Nara
Wanda Nara, with her accounts, seems to be the 100 percent owner of the two companies. These companies are World Marketing Football and the Wan Collection, which also manages Mauro Icardi's MI9 brand. Nara also opened WAnda Cosmetics in Argentina a few months ago. The assets of the duo are not limited to companies… Icardi and Nara have two apartments in Milan. One is near the San Siro Stadium and the other is in Porta Nuova. Again in Galliate farm house The duo also has a house on Lake Como. Icardi-Nara couple, who have a luxurious house in Paris, also have two houses in their country Argentina.
class="medianet-inline-adv">
'I left to protect my mental health'
Apart from the houses, Mauro Icardi and Wanda Nara own 5 luxury cars with a total value exceeding 1 million Euros. In the meantime, responding to questions about the separation on social media, Nara said, "It hurts me, but I had to do this for my mental health. I had to be selfish and I chose myself. "Think of me too," he said. Ana Rosenfeld, Nara's close friend and lawyer, also told the Argentine press, "Mauro and Wanda's separation was not agreed upon. Wanda is very upset, but the decision is hers. Wanda will be making a broad statement on the subject soon. "This decision was not made by mutual agreement, it was a unilateral decision," he said.
YOU ARE A THOUSAND TIMES MORE TOXIC THAN ME
· Mauro Icardi shared his WhatsApp correspondence with Wanda Nara on social media yesterday. At the end of the correspondence, where the two used harsh expressions to each other, Icardi's writing, "I love you, poisonous", led to the question of "Will they reconcile again". Nara left Icardi last year but returned later. The Icardi-Nara correspondence that appeared yesterday is as follows:
· Nara: Where are you?
· Icardi: Why?
class="medianet-inline-adv">
Nara: Will you answer or not? Why are you walking outside the house instead of sleeping with the kids?
YOU ARE BOTH MARRIED AND SINGLE
· Icardi: I'm single. I don't have to explain to you. I left you. Yet you want us to continue as is?
· Nara: You are a liar. You are both married and single.
· Icardi: We are the same. How toxic you are.
· Nara: You are a fox!
Icardi later replied, "You're a thousand times more toxic than me, Wanda," and shared the image Nara was looking for, asking her followers, "Should I open it or not?"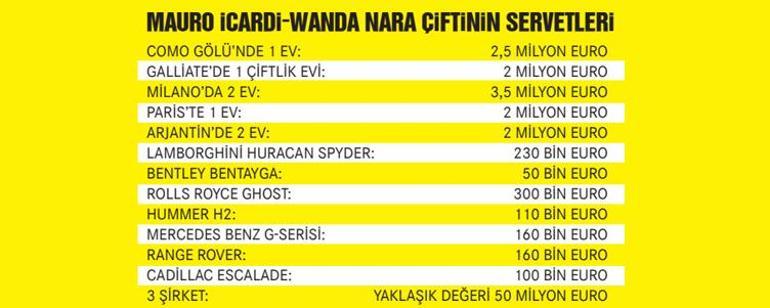 .