world
Ukrainian War: Clash with police at drafting protests in Dagestan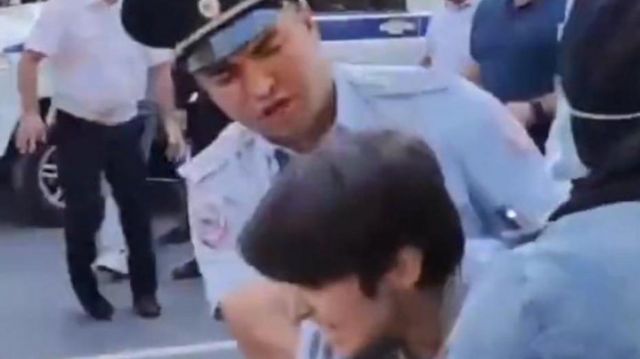 In the latest protests against the 'partial mobilization' declared in Russia, activists clashed with the police in the Dagestan region of Russia.
The independent Russian human rights watchdog OVD-Info announced that more than 100 people were detained during the protests in the region's capital, Makhachkala.
The agency also expressed concern over the news of "very harsh detentions" in the region.
In recent days, anti-mobilization protests took place in major Russian cities, and more than 700 people were detained on Saturday alone. In Dagestan, however, the clashes of demonstrators with police points to infrequent acts of violence.
Videos shared on social media show activists resisting police and other security guards in Makhachkala. OVD-Info reported that the police used stun guns and jops on demonstrators during the demonstrations.
In one video, a demonstrator is seen beheading a police officer, and later being beaten by other security guards.
Another video shows a security guard trying to escape from a large group of activists.
A large group of women are shouting at the guards at the conscription office and condemning the war in Ukraine. A woman is seen telling the official "Russia is in another country's territory".
The woman says, "Why are you taking our children. Who was attacked? Russia was attacked? They did not come to us. We attacked Ukraine. Russia attacked Ukraine. Stop the war."
OVD-Info also reported that people in the village of Endirey closed the federal highway to prevent mobilization officers from entering the area.
Footage captured by the organization shows police officers shooting into the air to disperse the demonstration, but villagers continue to block the road.
To quell anger, Dagestan Governor Sergey Melikov admitted "mistakes were made" in the enlistment.
"I've mentioned this before, but I'll say it again. Partial mobilization should be done according to strict criteria announced by the president," Melikov wrote in Telegram.
It is believed that Dagestan has already sent thousands of troops to the invasion of Ukraine. Dagestan suffered more casualties than any other Russian region, according to a recent analysis by the BBC Russian Service.
In the last month, the research shows that 301 people from Dagestan died. This rate is 10 times that of Moscow and the actual number is thought to be much higher.
More than 2,000 people have been arrested in demonstrations since Russian leader Vladimir Putin's declaration of partial mobilization.
Many young Russian citizens tried to cross into neighboring Finland or Georgia to escape the country.
There are reports that local mobilization authorities in the country have recruited a large number of people who do not meet the recruitment criteria.