sport
Stefan Kuntz's response to the criticism of the squad selection in the National Team
class="medianet-inline-adv">
A National Team Technical Director Stefan Kuntz national football player Ozan Kabakmade statements at the press conference before the match against Luxembourg.
Stefan Kuntz's explanations are as follows:
We have completed our first year. Thank you all. We do not understand how a year passed in the growth of our children. I am on my way to become the best German Turkish.
"SQUAD SELECTION IS NOT MADE AGAINST ANY TEAM OR PLAYERS"
I wanted to keep the squad that I announced in the May-June period. Working with a large number of players is not healthy. Our goal should be to protect the game and memorization on the field. We currently have a group of players who have found and known each other because of the first 4 games. If it weren't for the injuries, we wouldn't have changed the squad at all. This was our thinking until the end of the Nations League matches. My assistants, me and our analyst watched the matches in the Super League. We never missed a match. We also talked to club coaches about the players we watch. We had ideas about the players, but we still talked to our colleagues and got information. As a result of our observations and the dialogues we had with the coaches, I think we made good choices. These decisions are not made against any player or club. For example, Tolga Cigerci is a good actor. Tall, strong in defense. Players in the Faroe Islands are also tall and physique. As for İsmail, he became a name that showed his potential among young players. We lost our strong players like Dorukhan, Salih and Hakan. When we thought about who would be among the players we would replace, we decided that these would be the best names. I would also like to thank the technical guys who shared their opinions with us in this information flow.
class="medianet-inline-adv">
"WE WILL TRY YOUNG PLAYERS IN NOVEMBER"
It may be healthier to evaluate this after we finish all our matches in this league. We are planning to invite you to talk about the remaining 1 year. After these two games, I would like to meet you with realistic data. The first priority for me right now is to finish the UEFA Nations League in the best way possible. I don't know if I'll be here, but if we don't get to EURO 2024, we need to get our second chance. This is my first priority. We will have very little time to play the game in November. We will play two matches in 3 days. New experiments can be made. We can try 4-6 young players here. We will play matches with powerful European countries. We will also try different tactical touches.
In this match, Orkun and Serdar will have special duties instead of Dorukhan and Hakan. We'll see…
"Maybe we shouldn't send young players in skirts to a European club right away"
class="medianet-inline-adv">
We can attribute the decrease in the form of the players transferred to Europe to several reasons. Maybe we shouldn't send our talented young players to a European team right away. Mine GermanyI had a young player in . Everyone supported him in his club, he could do whatever he wanted on the field. He was good on offense, he was good on defense. His teammates were managing him so we could run for him as well. Then he transferred for 25 million euros and moved to a bigger club. A player who comes with that transfer fee is expected to be perfect. It should not be of particular interest. No one should be running after him. Maybe his old club won't have his parents carrying his boots behind him. He has to deal with how to survive on his own. These changes in the player happened in 6 weeks. A transition from black to white, which took place in Germany. Another country, language, culture… If you are not prepared, this decline should be seen as normal. Those who are strong will survive this fall more easily and stand up again, but most of them will stay where they fell.
class="medianet-inline-adv">
I think I will play the first match with my first baseman and the second game with my second baseman.
OUR COMPETITORS IN NOVEMBER
Discussions about our opponents continue in our friendly matches that will be held in November. One is Czechia, one is Scotland. We have plans to play with Scots in Diyarbakir and with Czechia in Gaziantep. Negotiations continue. We also received match offers from Central and South America, we wanted to play with stronger opponents to prepare for the European Champions Qualifiers.
OZAN ​​KABAK: THE GERMANY LEAGUE IS MORE SUITABLE FOR ME
Ozan Kabak's explanations are as follows:
There is no difference between last year's Ozan and this year's. I came to a league that I know more and there are people around me who trust me. We started the season well. When the results came, I started to perform well. Hopefully it continues like this. I started with two goals, we got good wins as a team. We had a good preparation period. I am with people I am happy to be with. I think the German league is more suitable for me.
class="medianet-inline-adv">
We won the first 4 games in our group. I hope we win both games without conceding a goal. We aim to show that we are not worthy of this group and qualify for the B League. We are a good team and I hope we will win these two games without conceding a goal.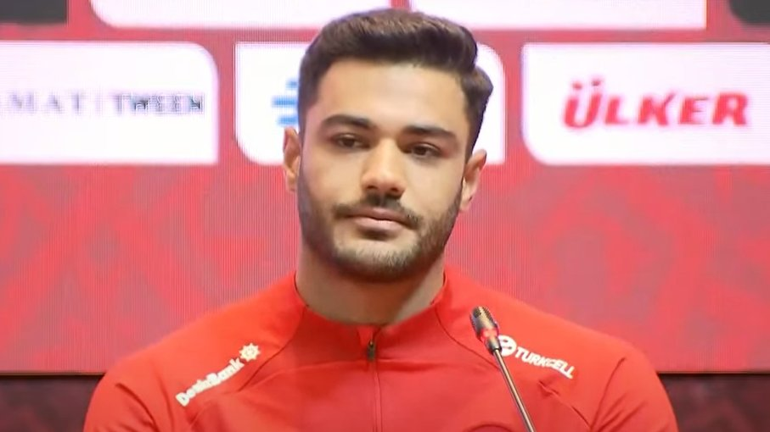 .