business
Saying goodbye to easy money hurts metals
Evolution SMALL
Precious metals felt deeply about two important developments this year; The Fed's withdrawal of monetary and fiscal stimulus following the conflict in Ukraine and the COVID-19 pandemic. After the invasion of Ukraine, precious metals revived. In particular, palladium surged past $3,400 to an all-time high. However, precious metals such as palladium, platinum and rhodium fell apart as the Fed pushed the button to end the 'easy money' era. These metals, which are sensitive to the decline in economic power, gave back their gains with the pressure of interest rate increase.
In the 'Paladium Standard 2022' report published by Heraeus, it is stated that a difficult road awaits precious metals in the next six months. Ryan Wang, US Economist at HSBC, whose views are included in the report, says that the Fed's monetary policy will suppress platinum group metals (PGM). The Fed's balance sheet is about 1.4 trillion dollars over the next 18 months. dollar While it is expected to shrink, the analyst points out that it is difficult for PGMs that say goodbye to easy money. Here are the expectations for some precious metals in the report:
There will be a surplus of 745 thousand ounces in the platinum market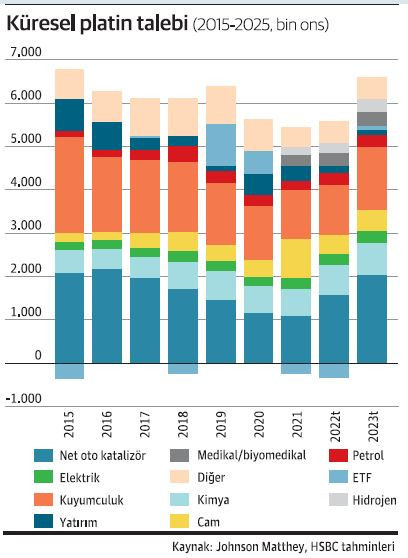 It is estimated that the platinum market will have a significant surplus. It is estimated that there will be 745 thousand ounces of surplus this year. Investors cut their ETF holdings by 452,000 ounces in the first eight months of the year. The decrease in physical investments prevents the surplus in the market from melting. Automotive demand is expected to rise 13 percent to 2.86 million ounces in 2022.
Automotive demand is fueled by platinum substitution in gasoline autocatalysts and the need for more platinum loading in commercial vehicles with VI emission standards in the country. Global demand for platinum jewelery is projected to decline by 7 percent to 1.67 million ounces this year, due to the sharp decline in China despite rising sales in major markets. It is estimated that the demand for platinum jewelery in China will decrease to 735 thousand ounces. Industrial platinum demand is mostly driven by growth in the glass industry and oil It is expected to rise 6 percent to 2.31 million ounces in 2022 as a result of increased use as a catalyst in the industry.
The supply of refined platinum is expected to decrease by 4 percent to 5.99 million ounces this year. Prices rose when Russia invaded Ukraine, but platinum didn't hold on to those gains. Central banks' interest rate hikes and economic uncertainty did not help platinum at all. Investors reduced their ETF holdings, pushing the price to the $900 band.
The platinum price could get some support from an appreciating South African Rand, but the Fed interest This seems highly unlikely as we rapidly increase rates. The price is expected to remain weak and average $890/ounce over the next six months. The weak economic outlook does not create a supportive environment for platinum.
Palladium negatively affected by the deteriorating economic outlook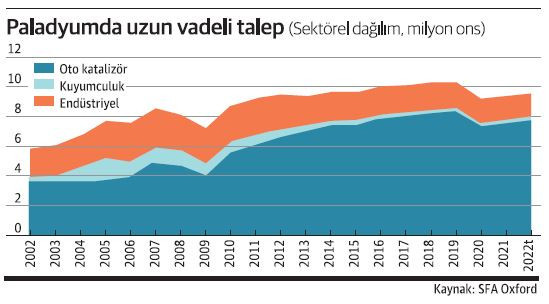 Earlier this year, the price of palladium reached record highs for the second year in a row amid concerns about supply from Russia. After Russia invaded Ukraine and Western countries began to impose sanctions, there was a concern that Russia's PGM supply could be cut.
Global demand for palladium is projected to rise 2 percent this year to 9.63 million ounces. Automotive palladium demand is expected to increase by 3 percent to 7.81 million ounces in 2022, despite downward revisions to light vehicle production estimates. Industrial use of palladium is projected to decline 5 percent this year to 1.61 million ounces. All three major industries are in lower demand. Chemical industry demand is likely to pull back as capacity expansion in China slows after strong growth in 2021. The electricity sector continues to suffer from price driven demand weakening, and the dental market is shrinking again due to higher prices and the use of more cosmetically attractive materials.
Palladium ETF holdings fell to 464k ounces at the end of August. The market is close to equilibrium, which could help support the price currently hovering in the $2000-2100 band. However, the demand outlook is worsening in line with high inflation and the worsening economic situation, and the price is expected to average $1,750 per ounce in the next six months.
Rhodium demand still below 2019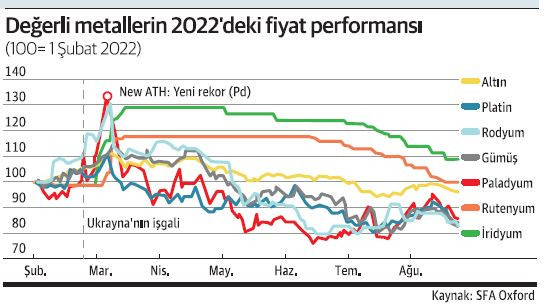 It is estimated that the rhodium market will have a small surplus of 20,000 ounces in 2022. When Russia invaded Ukraine due to supply concerns, the price rose above $20,000 but unlike palladium, it did not approach new record highs. Due to the deteriorating economic outlook and downward revisions in light vehicle production, the price was pulled below $14,000 per ounce. However, light vehicle production has still risen from last year's extremely low level, which is driving rhodium demand higher this year. Industrial demand is also expected to expand this year, with modest growth in chemical and glass applications. However, aggregate demand is still expected to remain below 2019. The primary supply of rhodium from platinum and palladium deposits is lower this year, lacking the large increase from last year's stockpile processing, and recycling is not increasing, so overall the market is expected to have a small surplus.
Rhodium price is still trying to find an equilibrium level after hitting record highs last year. The Russian invasion of Ukraine provided a boost to the price earlier in the year, but downward revisions to light vehicle production forecasts and the worsening economic outlook are putting pressure on the price, which is estimated to average $12,500 an ounce over the next six months.
The course of the stock market is important for the future of silver
An ounce of silver has outperformed gold and other precious metals relatively this week, despite the expectation of aggressive interest rate hikes from the Fed, which is rocking its precious metals. An ounce of silver climbed above the previous week and traded above $19. It is noted that the course of the stock market is important for the silver market, which managed to rise above $ 19 with purchases above $ 18. An ounce of silver is waiting for the Fed's interest rate decision. However, according to experts, the next move of an ounce of silver depends on how fast money will come out of the stock markets, as the Fed tightens its monetary policy. Precious metals and stock market performance often move in opposite directions with each other. The slowdown in the Fed's rate hikes may increase risk appetite and lead to an exit from the stock markets. This, in turn, can raise the price of metals like silver. It is warned that a sustainable strength above $ 18.50 per ounce may pave the way for a meaningful rise in the near term, otherwise sales may come.
Ukraine war grows solar demand
Increasing edibles after Russia's invasion of Ukraine energy demand will increase silver consumption. Because a record is expected this year in the installation of silver panels where silver is used. According to Metals Focus, photovoltaic (PV) systems will set a record in 2022 as the Russia-Ukraine conflict creates the need for a faster transition to clean energy. "We have seen at least 24 countries achieve 1GW of new annual capacity, and global PV capacity is expected to exceed 200GW for the first time in 2022," according to the consulting firm. According to statistics from Metals Focus, the amount of silver used in solar cell production is up 15 percent this year. It will exceed 3,900 tons (126 million ounces), accounting for almost 25 percent of total silver industry demand.