Program, Minister of National Defense Hulusi Akar and Azerbaijan In addition to Defense Minister General Zakir Hasanov, Chief of General Staff General Yaşar Güler, Land Forces Commander General Musa Avsever, Naval Forces Commander Admiral Ercüment Tatlıoğlu, Air Force Commander General Atilla Gülan, Azerbaijan's Ambassador to Ankara Reşad Memmedov attended.
Stating that the lands of Azerbaijan were occupied as a result of an unfair war, Minister Akar said, "They were subjected to very serious massacres, murderers and murders that you all know very well but that the world does not want to hear or see. Once again, they were subjected to torture and torture. While these events were taking place, the European Union, NATO, "Unfortunately, the United Nations, other countries and the Organization for Security and Cooperation in Europe did not show any sensitivity or interest in these issues, nor did they take the necessary measures. The MINSK Group, co-chaired by Russia, America and France, remained extremely insensitive to these issues," he said.
Minister Akar emphasized that in case of any risk or threat against one of the only nations, Azerbaijan and Turkey, they are ready to oppose it with one heart. Stating that the armed forces of the two countries are working hard for the modernization of the Azerbaijani Armed Forces, Minister Akar stated that these efforts continue with great success.
"We have done everything that needs to be done about the defense industry that the Turkish Armed Forces needs there," said Akar, adding, "I hope we will do it with determination and determination from now on. We will not allow anyone to look sideways at the Azerbaijani army, which shows the power of the Turks to the world, and We will not give it a chance," he said.
'WE ARE NOT FOR WAR, WE ARE FOR STABILITY AND PEACE'
Stating that they recommend Armenia to hold the peace hand extended by Azerbaijan, Minister Akar said, "We exist not to fight, but to deter. We do not exist to fight, but for stability and peace. We strive for this."
Emphasizing that with the signing of the agreement between Azerbaijan and Armenia, they did their best to ensure peace and stability in the region and to create an atmosphere of peace and tranquility in the entire Caucasus, Minister Akar said, "Azerbaijan has done and continues to do all that needs to be done in this regard. In a sense, as Turkey, we support the normalization and recovery between Azerbaijan and Armenia. Apart from this, we want everyone to know that we are against any situation that fuels the deadlock."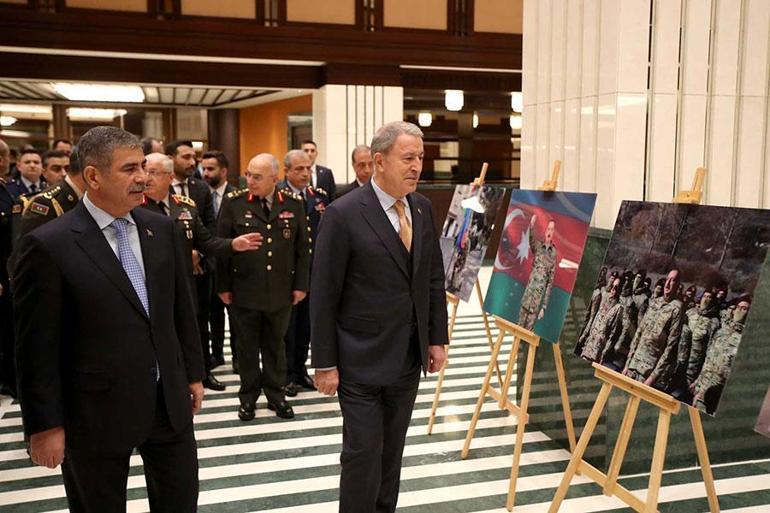 'WE THINK OF DETERMINING BEFORE THE WAR'
Stating that they are working for the Turkish Armed Forces to be effective and deterrent, Akar said, "The same is true for our brother, the Azerbaijani Armed Forces. We are considering deterring before the war. We say 'no war', but by saying it is not a war, it is a war. To do this, to be able to understand this word. It is necessary to deter, to be strong." he said.
Minister of National Defense Hulusi Akar emphasized that it should be known that Azerbaijan is right in its case, that it should be internalized and revealed everywhere. "This is one of the most important issues that we are trying to do as Turkey. We bring it up," he said.
.