class="medianet-inline-adv">
Claiming that Ronay called him a 'beggar', Erbil filed a criminal complaint with the prosecutor's office on the grounds that his reputation was damaged.
According to the petition Mehmet Ali ErbilWhile broadcasting live on Tiktok, he asked his followers for a gift for humorous purposes. Ronay also commented on Erbil on his social media account, "Congratulations to your new beggar, Turkey".
IT ALL STARTED IN OCTOBER 2021
social media phenomenon Ece Ronayclaimed that Mehmet Ali Erbil, who played in his music video in October last year, harassed him.
WITH RESPECT I TRIED TO BE SILENT
Ece Ronay, who published her correspondence with Mehmet Ali Erbil on her social media account, rebelled like this:
class="medianet-inline-adv">
Hello friends. Not a day goes by that another woman in our country is not subjected to harassment and violence. I say violence because psychological violence is also a derivative of violence. I lynched Mr. Mehmet Ali, then I closed the issue and apologized because he texted me and said he was sick, crying. I offered him to play in my clip, he accepted. It's not much anyway, it seems like 5 seconds in the clip. After the clip, the vices grew every day by leveling up. I tried to ignore it, I tried to remain silent out of respect for his age and position. As you can see, I told him without offense that we could not have a relationship as he had thought from the first day. But today, I have to share this because he said unspeakable words and threatened me out of the blue. Maybe this sharing will harm my career and my profession, because he is a person who has been in this market for years. But I won't shut up because I feel cheated and worthless. I fell, this is a warning post so that no one else falls into this trap. Whether you're a celebrity or a phenomenon, you can't escape harassment. Shame on you.
class="medianet-inline-adv">
USED ​​ME TO ADVERTISE
Mehmet Ali Erbil, who broke his silence after these allegations of Ece Ronay, responded to the accusations like this:
"The girl shoots me a video and calls me a 'dog'. That's all. I'm taking the matter to the judiciary. What harassment can be with a message. It's a shame to even reveal it. I didn't send her such messages. I used to call him 'brother'. He invited me to his house last night. Am I a child or the public knows me. Will they believe my word or this girl? This is her raising money on TikTok by revealing her breasts. I didn't write her saying 'I want to sleep next to you' My assistant is holding my phone. He warned me many times, 'This girl has different expectations. Now we will settle accounts in court. A woman of my daughter's age calls me a 'dog'. I haven't acted in anyone's music video until now. I played to support young people."
class="medianet-inline-adv">
I FALL INTO THE TRAP OF GENERATION Z!
Erbil later made this statement on his social media account: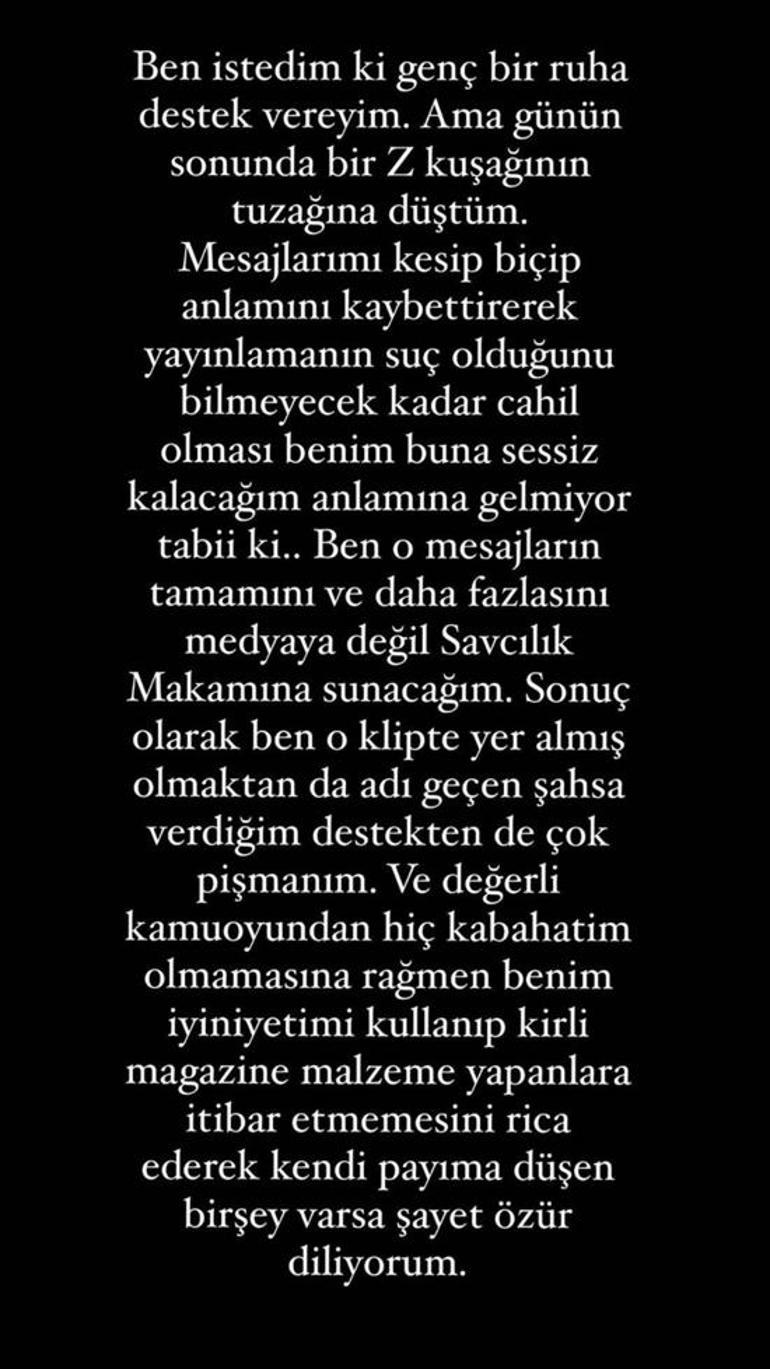 .