King Charles III, who took the throne after the death of Queen Elizabeth II of England, was photographed getting angry that the ink of the pen he used in a signing ceremony in Northern Ireland, where he went to visit, was leaking.
Live-streamed video of his visit to Hillsborough Castle in Northern Ireland today shows King Charles III saying that he mistakenly entered the date of September 12 instead of September 13 in the guest book after his visit.
"I CANNOT ENDORSE THIS DAMN THING"
King Charles III, after reminding his wife Camilla that she signed the wrong date, said, "I can't stand this damn thing." said.
In the video, it was seen that King Charles III left the room after getting ink on his hand and his wife Camilla signed the book.
He was frustrated with the pen on the table
While King Charles III was signing at the enthronement ceremony, he was seen instructing his assistants with an angry expression to clear his hand on the table. Seeing quite excited at the ceremony, Charles finds the table small when he sits at the table to sign and clenches his teeth and wants the pencil holder on the table to be removed. These moments of Charles became the agenda on social media.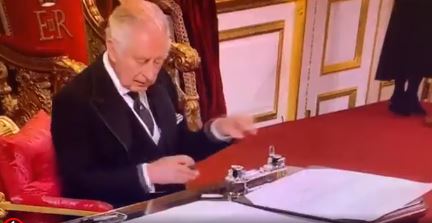 .