Iris Cibre*
The whole community is talking about the banking movement these days.
I have been in this market for 24 years, I have worked with the big specs of the time in this market, I still talk to many of them. None of us have seen such a move, even when our rating is upgraded to investment grade.
So what happened now?
First of all, I say what is a stock market, let's start from there;
It is an organized market where companies come together to provide financing and investors to invest in a company as partners and earn returns.
The organized market, on the other hand, is a set of systems that ensures that all these transactions are carried out within the framework of the rules, monitors and takes decisions to protect the investor. Borsa İstanbul brings together the traders, the CMB monitors these transactions in order to ensure that they are processed within the framework of the law, Takasbank performs the clearing of the transactions.
CMB has one of the most important duties at this point. Supervision and regulation. It develops some rules so that the big capital does not swallow the small capital in the markets, ensures that they are applied and shows the penalty or precautionary card when it is not applied. These punishments have many stages.
I would like to give you an example of the gross clearing measure in our current situation.
Gross clearing is applied when stocks experience unusual and rapid increases. The aim is to protect the small investor in particular, because fast rises tend to fall sharply. When a stock goes through an unusual, 3-5 days ceiling without any notice (each ceiling means 10 percent upward movement), CMB usually decides on a gross swap. Many investors in the stock market have experienced this, it's a bit annoying; In a gross traded share, it is not possible to trade on credit in stages, online trading is prohibited, transactions can be made by calling the dealer, and most importantly, intraday trading and short selling cannot be made, you can only sell what you bought today, but the next day. As I said, the aim here is to protect the investor and to prevent a rapid decline in the rapidly rising stock.
Now let's come to the banking sector;
The sector rose by 110 percent in 2 months in the stock market, and some shares by 250 percent.
So what happened that these banks recorded such a rapid increase?
Our credit rating increased, the contract framework of foreigners allowed investment, they flocked to the BIST.
No
(ps. There was an inflow of 750 million dollars, but this cannot ensure that all banks act at this speed above 100 percent, no real foreign investor buys goods in this way, sneaks, does not show off)
What economic policy decisions have been made that will increase the profits of the banks?
No, even the other way around!
Banks were undervalued?
Yes, they were very low in dollar terms, they even made a loss in TL terms, but there was a reason for this. They could not act because there was no accounting for inflation, their real profits could not be calculated, the amount of loans floated was unknown, foreign investors did not come to the market with the power to support banks, and their equity capital eroded rapidly due to the rise in exchange rates.
But suddenly a magic wand came, the banks took action at the same time, all foreign and domestic investors, speculators, and operators were immersed in these stocks-did they?
Or was a group of people who, by absorbing almost all the goods in the market, taking the pockets of those who opened a short position (selling a short position, that is, selling a share contract that you do not have) as the upward movement continued, driving the shares up?
Of course, it is not possible for a single person to push the flagship banks of our stock market up in this size, if there is such a person or group, who would support him?
There are many myths about the answers to these in the market. Our job is not to write according to the myths, let's go back to the visible facts.
First fact; Many stockbrokers who had never seen such a rise before went bankrupt. Margin calls are not coming down from the highs.
The number of open contracts in the futures markets is at its peak, with an increase of 33 percent in just one month.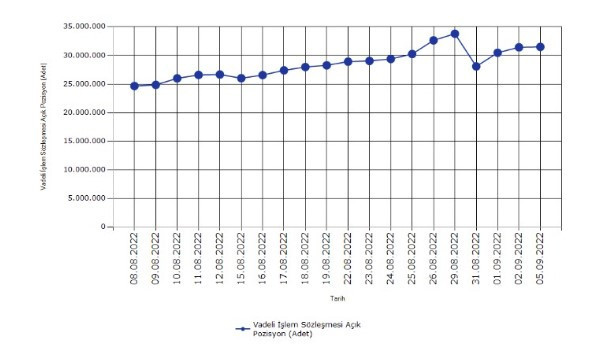 When we think about it, if we guess that most of these bank shares may be in the hands of a certain group, it is a matter of curiosity to whom and how they will sell these shares at these prices.
When we try to sell to the amount of buyers that will come at these prices in the spot market, the possibility of rapid depreciation of the shares comes to our mind. So, won't the sellers make a loss when their costs increase with the shares they are pushing up every day?
Most likely, they have made such leveraged profits from the futures market that they may not make a net loss.
It is impossible to predict how long this trend will last because there is no basis for it. With the mainstay, stock movements are digested slowly. Our experience so far has shown us that stocks that skyrocketed in 2 months eventually return at a similar rate.
We said that the CMB applies gross clearing to prevent this. So far, this measure has only been implemented in 2 banks. We have not seen such a measure in flagship banks.
We will probably never get a competent answer to our questions about why we haven't seen it, how this trend will end, and the logic of this movement.
However, I have to say that the rumors are not pleasant at all…
All I can say is that you should never, ever trade without putting a stop.
*Financial Markets Specialist