Entertainment
He is only 10 years old and his paintings sell for hundreds of thousands of dollars! 'Sometimes adults don't understand'
class="medianet-inline-adv">
Modern art community is accustomed to young talents, but Andres Valencia has taken this concept one step further. Because Andres, known as "young genius" and "little Picasso", is only 10 years old!
Andres turned into an art phenomenon from an unknown name last year. Unveiled at Art Basel Miami Beach, his surrealist paintings became the favorites of wealthy collectors such as Tommy Mottola and Jessica Goldman Srebnick. Thereupon, he opened a solo exhibition at the Chase Modern Art Gallery in SoHo in June. In the statement made by the gallery, it was stated that all of the 35 paintings in the exhibition found buyers with prices in the range of 50 thousand to 125 thousand dollars.
One of Andres' works sold for $159,000 with additional fees at the Phillips de Pury auction held in Hong Kong. Another of his works was bought for 230 thousand dollars at a charity gala held in Capri, Italy.
class="medianet-inline-adv">
Speaking to the New York Times recently, Andres said, "I am very happy that I can make people happy with my art and that they can hang my paintings in their homes."
While saying these words, Andres, who was standing in front of his Cubism-inspired oil paint and acrylic work called "The Professor", said shyly, "I did this when I was 8 years old," pointing to the 138 centimeters tall painting.
"The Professor" is not the only painting by Andres Valencia on display at Chase. "Max the Clown", to which the young painter refers to "Clowns are simply classic", is equally striking. Right next to it is "The Godfather", which was ordered by a Florida family and reflects the hit men of the Italian mafia.
Asked by New York Times reporter Alex Hawgood for his inspirations, Andres cited a variety of names: Jean-Michel Basquiat, George Condo, Pokemon, Picasso's 'Guernica' and Click N Play toy soldiers.
"FIRST OF ALL HE IS A CHILD"
In a statement to the newspaper, the owner of the gallery, Bernie Chase, praised Andres and said, "I have been in the art business for 20 years. I have worked with names such as Peter Beard and Kenny Scharf. Andres has the potential to be at least as much as them, or even bigger."
Of course, the fact that he is praised so much does not change the fact that Andres is a 5th grade kid. Jewelery designer mother Elsa, who accompanies her son everywhere he goes, drew attention to this point and said, "My son is an artist, but before that he is a child. He is a child, not a celebrity."
class="medianet-inline-adv">
But that doesn't mean that the sons of Elsa, 48, and her husband, Lupe, 50, a lawyer and sports manager, didn't play a major role in making their son an overnight phenomenon.
The family, who previously worked briefly with Nadine Johnson, one of New York's well-known advertisers, now has support from Sam Morris, a specialist in public relations work in theater and the arts. With the influence of these efforts, news praising Valencia appeared in many publications such as the Miami Herald, New York Post, Forbes, and Times of London. ABC channel's "World News Today" program also devoted an episode to this young artist.
Elsa Valencia stated that they spend some of the money her son earns from the paintings to charity and they are trying to teach Andres this. The Valencia family stated that they have donated more than 300 thousand dollars to amfAR, which works on AIDS, and to Box of Hope, a child-oriented charity.
class="medianet-inline-adv">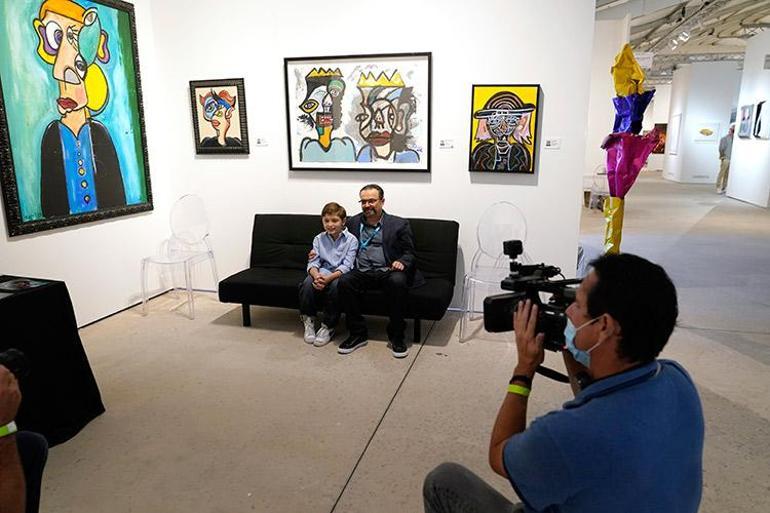 Andres and his dad at Lupe Art Miami
PICTURE STARTED AT THE AGE OF 4
Andres' artistic career started when he was just 4 years old. The family was living in San Diego at the time. The little boy was spending hours and drawing in front of a painting belonging to the graffiti artist Retna, one of his father's former clients.
Andres said, "I would take a sheet of paper, sit there and try to copy the picture. But it took me years to succeed."
Andres' confidence in his art grew rapidly. 20 of his watercolor paintings before dollar He started selling it to family friends in return. Among those family friends was Chase; When Valencia visited his family in San Diego, he was offering Andres' paintings for $100.
class="medianet-inline-adv">
Noticing Chase's interest, Andres also showed that he would be a good business person and increased the asking price for his paintings to $5,000. Chase said, "So I agreed, and I said, 'Well, I'm going to pay $5,000 for that picture.' I went to my car with Anders. While I was there writing her a check, Elsa rushed after me and said, 'What do you think you're doing?' He started shouting," he said.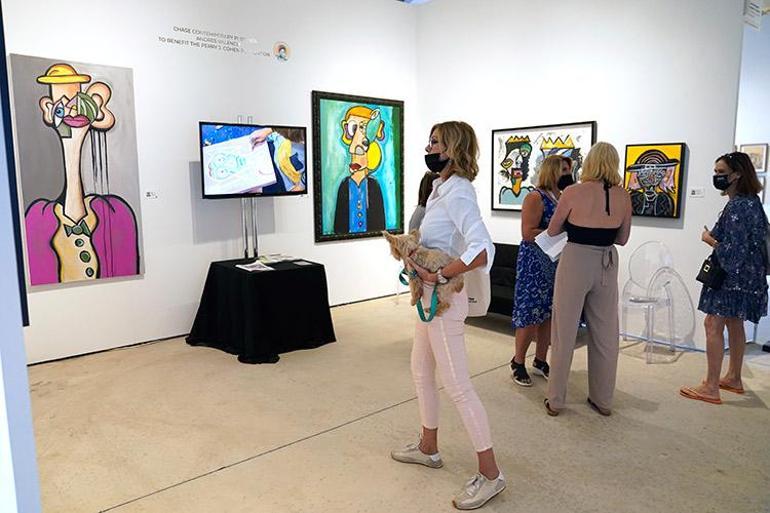 Celebrities are also fans of ANDres
Chase bought so many paintings from Andres that at one point the Valencia family was persuaded to share their son's talents with the world. So Chase connected with Nick Korniloff, director of the Art Miami Art Fair.
class="medianet-inline-adv">
"I was skeptical at first when I heard Bernie wanted me to work with this 10-year-old boy," Korniloff told the New York Times. However, he also thought that the demand for "something cheerful" would increase in the post-pandemic period. In his words, "the story of a 10-year-old painter was going to be satisfying for people".
Still, not wanting to risk his reputation for a schoolboy, Korniloff didn't mention Andres' age in the fair's promotional advertisements. However, as he circulated the exhibition to important collectors, he shyly said, "What would you say if I told you that it was a 10-year-old boy who made these paintings, and that he even completed some paintings when he was 8 years old?" he was asking.
News of the boy painter spread quickly. Famous names such as Sofia Vergara and Channing Tatum joined the buyers of the paintings. Reporters were calling and asking them to confirm that it was a child who made the paintings. Korniloff invited Andres to paint with Bradley Theodore, a street artist 20-30 years older than him. This event garnered media attention.
Moreover, Andres' followers continue to increase. Finally, a few weeks ago, BTS member V shared a photo of one of Andres's Cubist-inspired portraits with his 50 million followers on Instagram.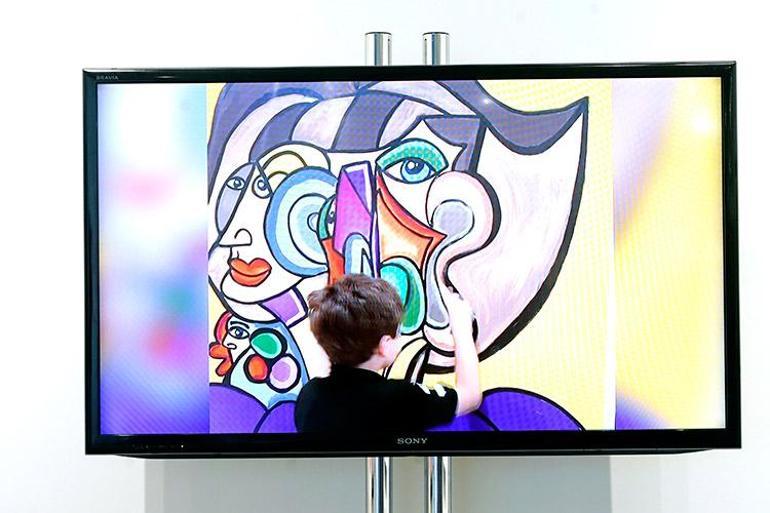 MAIN IMPORTANT QUESTION: WILL IT BE LONG LASTING?
Although such young artists are not very common in the art world, it is not possible to say that Andres is the only one. For example, a few years ago, the impressionist drawings of Lola June, who was 2 at the time, were sold at prices between 250 dollars and 1500 dollars. Twelve-year-old Alexandra Nechita, referred to as "Mozart with the brush" in the television programs she participated in, continues to produce her paintings, from which she earned millions of dollars in total.
However, there are also artists who don't mind being a child star. For example, paintings by Marla Olmstead when she was 4 years old were bought for thousands of dollars. However, years later on "60 Minutes" it was suggested that Olmstead may have been painting his paintings with the support of his father.
Owners of other art galleries warn that the Andres Valencia spree may not last long, either. For example, Alexander Shulan, owner of the Lomex gallery in Manhattan, which focuses on young artists, said, "Many people see new artists as a kind of asset that is not affected by inflation. But whoever they are, young artists' lives will change a lot in the future. So let alone a child, a 24-year-old painter. "It's ridiculous to assume that even the investments made in his work will last a long time."
Andres, on the other hand, stated that he did not agree and said, "Many people who see children drawing something on a piece of paper with colored pencils think that these drawings have no place in galleries. Sometimes adults don't understand."
Compiled from an article titled "Six-Figure Artworks, by a Fifth Grader" published in The New York Times.
.