The second volume of the book 'The Forgotten People and Losers in Our Literature', the first of which was published last year, by literature researcher and DECISION writer Taner Ay was presented to the reader by Ötüken Neşriyat. In his second book, Ay examines many 'forgotten' names such as Abdülhalim Memduh, Kemal Enson, Selahattin Karakayan, Suphi Taşhan, Pembe Marmara and Celal Sılay with a sincere style, with quotations, documents and in-text footnotes. rescuing.
Modern Turkish literature studies have generally focused on certain personalities and works with a canonicalized perspective. Although there are exceptional works, with us the 'sun' is brightened and the 'stars' are mostly extinguished. Of course, the names discussed and the literary values ​​of the works have an effect on the formation of this situation. However, it should not be forgotten that the concept of 'literary value' is also a concept that sometimes comes to light depending on the passing of time. That the works of the literary men we have overlooked today, 'assassinated by silence' (let's mention Tanpınar here) will not be a 'classic' in the future; Again, there is no guarantee that the personalities and works on whom we have written many articles and books today will not be forgotten in the future.
It is obvious that what we need to do in order to write a solid literary history in this way is to write articles and works on the names we have left to rebellion. Last year, Taner Ay took an important step towards this cause and published his book titled 'The Unutulans and Losers in Our Literature-I'. Bringing twenty-two names such as Şinasi, Ali Nusret, Fazlı Necip, Kemal Ahmet, Nurettin Artam, Nezahat Somar, Mazlum Kenan Köstekçi to the agenda once again, the second volume of Taner Ay's work was published by Ötüken Publications and presented to the reader this week.
Taner Ay, one of the archaeologists of modern Turkish literature, continues to draw attention to the forgotten names in his second book. In the second volume, Abdülhalim Memduh, Müstecabizade İsmet, Ahmed Vefa, Şahabeddin Süleyman, Safvet Nezihi, Said Naum Duhani, Kemal Ragıp Enson, Selahattin Karakayan, Suphi Taşhan, Niyazi Akıncıoğlu, Hasan Basri Alp, Sefer Aytekin, İhsan Ünlüer, Zühtü Baypur Tapar, Abidin Beh , Ender Sarıyatı, Emin Ersoy, Pembe Marmara, Kaya Çanca, Süleyman Ali Uluçamgil, Coşkun Büktel, Mehmet Lütfullah Erişçi, Muzaffer Hacıhasanoğlu, Hilmi Büyükşekerci, Celal Sılay.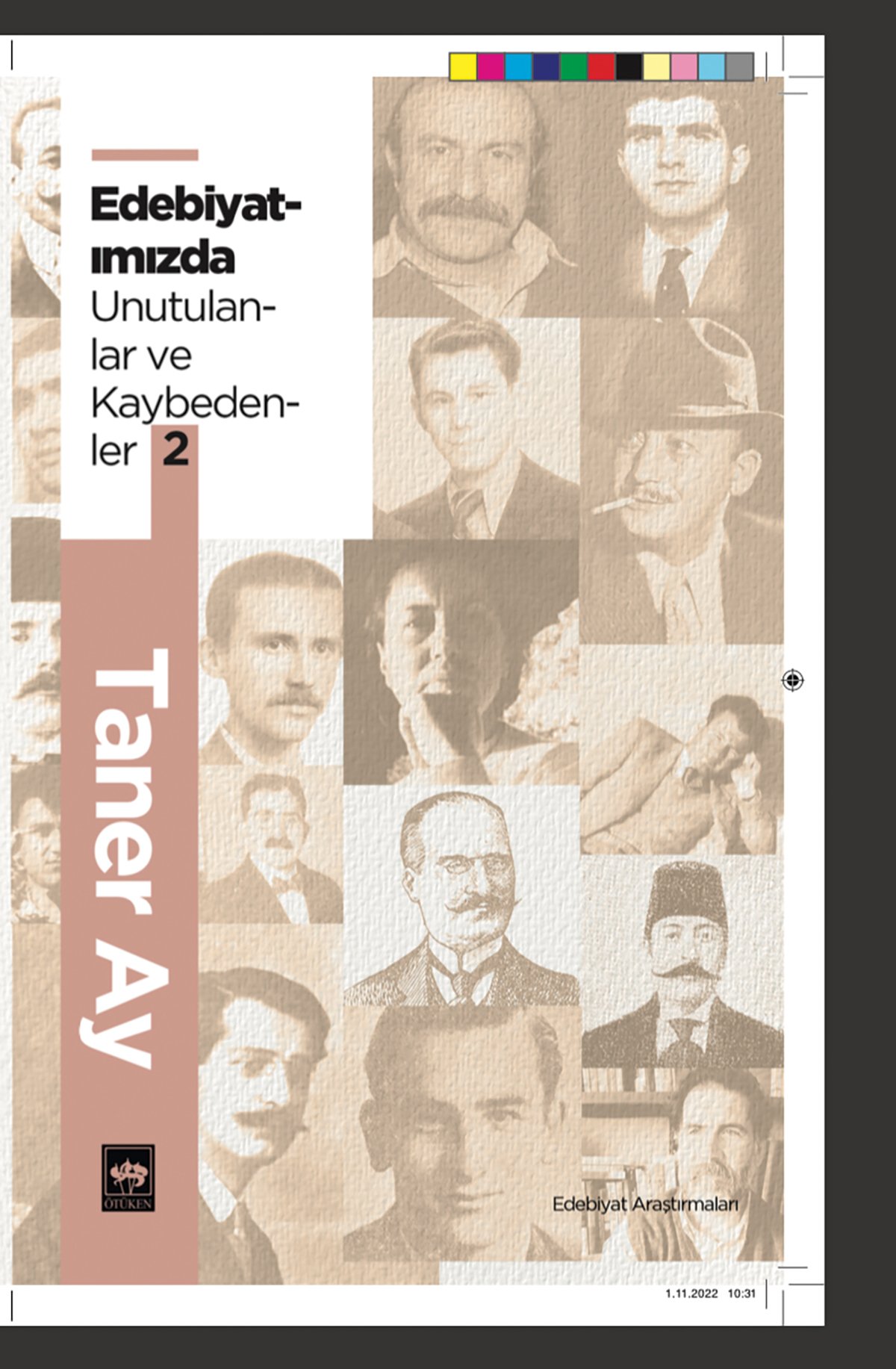 Taner Ay's two-volume "Forgotten Ones and Losers in Our Literature" series is a reference book for literary researchers.
Thanks to Taner Ay's book, we get the first information about many of the personalities whose names are mentioned above. This situation, which will open the door to new works, makes 'The Forgotten and Losers in Our Literature' more valuable. Another admirable feature of the book, along with the names it deals with, is its fluent language and sincere style. In the texts, it is immediately striking that the author approaches the people he deals with with compassion and does not want to give information. Taner Ay has a meticulous incarnation and a point of view that dominates the details, stimulating the reader's sense of curiosity. This does not mean that the book has a structure that is far from academic criteria. Information about personalities; An original composition was created by enriching it with quotations, documents and in-text footnotes.
Let's go back to the judgment we expressed at the beginning: It is not possible to write a solid literary history without comprehensive studies on the literary genres that we abandoned to Nisyana. Our literary history is full of hundreds of literature that we have forgotten, and it should not be forgotten that there are many ruins that have treasure, as our ancestors said. In this respect, 'Forgottens and Losers in Our Literature', the third volume of which is planned to be published next year, fills an important gap and stands before us as an eye-opening reference book for literary studies.
SABAN ÖZDEMİR: Long live TANER AY!
Taner Ay… Deep and sharp eyes, a cut but a speech that does justice to words, sincere smiles, a sincerity that gives peace and confidence to people… The taste of an esthete, the knowledge of a historian, the acquis of a literary historian, the accumulation of a writer engaged in cinema Put in the depth of an urban history expert, a portrait of the Moon appears before you. It is one of the indispensables of our Muhibban, from whom we learned a lot from his conversations and writings. I must say that he is as original a personality as they write.
Their conversations are filled with authentic information and anecdotes from Marx to Cahit Zarifoğlu, from the mansions in Kadıköy to the Spanish Civil War. While he is speaking, he is always the center of the conversation. Their conversations are used as if they have overthrown a library.
It evaluates people not on their political identity, gender, country, but on humanity, knowledge and values. For him, it is not important whether a person is a right or a leftist or a witch, the main thing is to be human. That's why I haven't seen anyone who doesn't like him. His interests are very diverse. He can tell you about İsmail Saib Sencer or Cemal Süreya for hours… Being the son of the poet Behzat Ay, being in touch with books since childhood, and being in the literary gatherings for years, it is like the history of literature. For him, "it is the closed box of our post-80 literature." dense place. However, he has not yet published his memoirs by writing this feature.
Another feature of Taner Ay is that he is a complete cat lover. He is one of those who live his life with the motto "neither without a book nor without a cat". She is boundless in her love and willing to share. When you are looking for a book -if she can find it- she shares it with you without hesitation. (Don't say what's wrong with this, sharing a book for book addicts, lending a book knowing that it will not come back, corresponds to the feeling of a mother who sends her child to war.) She is at peace with herself. I have witnessed many times that he makes fun of his illness and spreads joy around him, even in his most difficult times. ("Long live Taner Ay", both figuratively and literally, would be an exaggeration if I say that it has become a slogan among Muhibban.) Brother Taner is an authority to be consulted on many subjects from cinema to literature, from music to history. I say brother because he is the brother of our generation. It acts as a brother with all the meanings of the word in the dictionary.
Taner Ay is the guardian of our literary temple. It finds out the life stories of many unheard of and unknown literary figures, even for those who, like me, pay attention to the forgotten personalities of literature. He works like digging a well with a needle. He meticulously researches everything from the works of the writer he works with to his relationships, and even finds out and shares which cemetery and parcel of the writer he wrote to lies in. Abi Taber is a literary archaeologist, so to speak. It is the keeper of the cemetery of oblivion called Turkish Literature. There is no witness of the personalities who have given great works in this cemetery. Brother Taner has been striving to give credit to the many writers we buried with our dedication.
Not only Turkish literature is limited, but Taner's writings. Those who read his limited edition book "Winds Writers" will realize how profound and deserving he is about world literature. When it comes to deepening, I think of Taner brother. I think those who have read about Kadıköy on the pages of this newspaper lately agree with me. How many people can describe Kadıköy in this way, street by street, mansion mansion, personality?
Although not many people know, Taner Ay is also a good novelist, a good cinema and music writer. Let me whisper to you that he has novels waiting to be published now. In addition to these, he is an inveterate reader of comics, a strict collector and archivist. I must say that he has been a very successful criminal lawyer for over 35 years. As you can see, Taner Ay is like a multi-layered poem. As you get to know him, you will witness many of his skills, interests and characteristics.
For me, it is a total pleasure to read what Taner brother wrote, to have conversations and to get to know him. Taner Ay; reads, writes, produces, shares. He adds beauty to people's lives with his writings and conversations. Let his say be famous and his pen be prosperous.
Let's remember our slogan again: "Long live Taner Ay!"