YENİÇAĞ/TOLGA ŞAHİN
At the beginning of September, electricity was increased by 20 percent for residential subscribers, 50 percent for industry and 30 percent for business. As the hike made began to reflect on the bills, the citizens' backs did not straighten well.
MORE INVOICE FOR LESS CONSUMPTION
Despite the fact that the citizens consumed less electricity together with the hikes, they started to pay more bills. The difference in electricity bills, especially in industry and commercial establishments, amazes the operators.
The owner of a buffet in Istanbul is among these operators. The operator, who paid an average of 5,719 TL of electricity usage last month despite the daily average electricity usage of 62,352 kW, received an invoice of 7,100 TL this month despite the daily average electricity use of 57,338 kW.
"SMALL CRAFTSMEN WILL RISE TO THE DUSTY SHELVES OF HISTORY"
The owner of the buffet, who could not hide his surprise and anger at the bill, "With each passing month, it has become more and more difficult for us to stand. With these hikes, the government almost says to us; leave your job, close your shop and go. The government says; Do not save money on the side, do not buy dollars, bring your money to the economy and the market. Instead of throwing away our own money, we try to contribute to the economy by operating in a business line. However, the increasing costs with each passing month bend our back more. As far as I foresee, we will not find those rare small tradesmen who are almost absent by the end of the year. Everyone will close their shutters and walk away. Only the big ones will survive. Small tradesmen will become a memory that we will tell our children on the dusty shelves of history" said.
"I NEED TO WORK HARD BUT I'M LOOKING MORE EVERY DAY"
Stating that they could not understand how the bill increased by 1400 TL despite less consumption, the tradesmen said, "Well, the energy cost of this bill is 5,760 liras, the rest, BTV and VAT, I don't understand what's wrong with them. Apart from the energy we spend, they get 25 percent of it from us under the name of tax. So where is this money? I'm just watching desperately as my country goes back to fire. I feel like I have to work harder for my children's future, as I don't believe the economy will recover any time soon. However, the more I worked, the more I started to lose. I don't know what to do, I'm in a stalemate" said.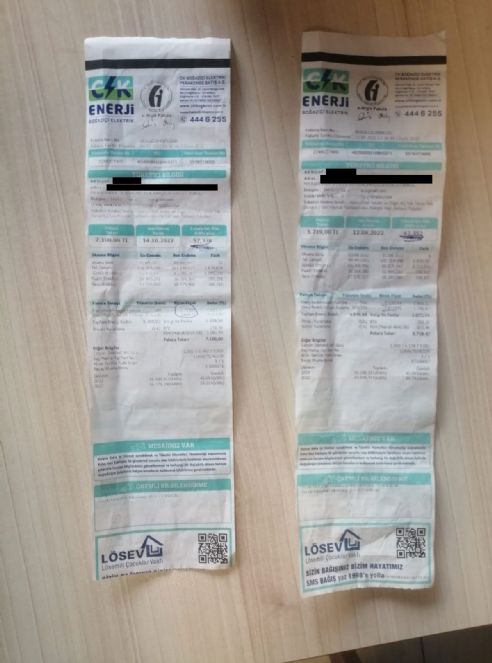 .