business
'Electric' show in Germany from commercial vehicle manufacturers!
Aysel YÜCEL/HANNOVER
The world's largest commercial vehicle fair, IAA Transportation, opened its doors in Hannover, Germany, after 4 years. Turkish companies left their mark on the IAA Transportation fair with their electric models. More than 1,400 participants from 45 countries took part in the event, which will continue until September 25. The commercial vehicle solutions of the future met with the visitors at the fair organized with the theme of "People and objects in motion". The event revealed that the electric transformation in the automotive industry is not limited to automobiles, but also that commercial vehicles will quickly adapt to the 'electric' world with the main and supply industrialists. The star of IAA Transportation 2022 was 'Turkey', with the models it unveiled for the first time and its vision of transformation. Turkey's first electric truck introduced by Ford Otosan global brand Ford Trucks; Anadolu Isuzu, Karsan, Otokar and Temsa made a show of strength with their new and fully electric commercial vehicle models. In addition, the new models of MAN and Mercedes-Benz, which are producing in Turkey, took their place at the fair.
Turkey's first electric truck from Ford Otosan
After E-Transit and E-Transit Custom, Ford Otosan introduced Turkey's first 100% electric truck at this fair for the first time. Ford Otosan has become one of the few automotive brands in the world that develops and manufactures new generation electric vehicles in the heavy commercial, after light and medium commercial, with 100% electric trucks developed and produced entirely in Turkey, from design to test processes. It has been announced that the vehicle, which is a candidate to be one of the ambitious competitors of Tesla's electric truck 'Semi' with its futuristic design and features, will offer a range of 300 kilometers with a battery capacity of 392 kWh and will be fast charged in a minimum of 75 minutes. The production of the model will start in 2024 at Ford Otosan's truck factory in Eskişehir. Making statements at the fair, Ford Otosan General Manager Güven Özyurt stated that today they are among the important players of the electric transformation in a wide range from passenger cars to heavy commercial vehicles.
Temsa's signature for Europe's first electric intercity bus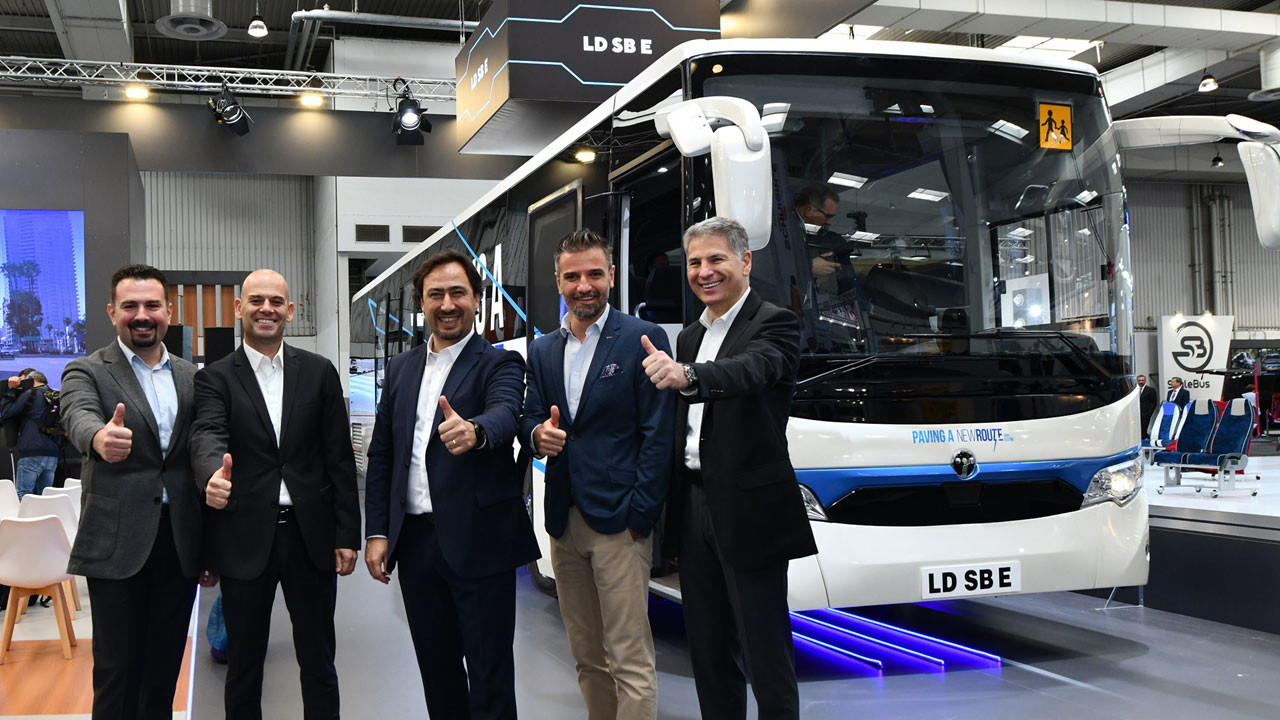 Temsa introduced its new electric vehicle model, the LD SB E, at the fair. Increasing the number of vehicles in its electric product range to 5 with the LD SB E, which is the first electric intercity bus produced by a European company, Temsa aims to increase the share of electric vehicles in total production to 50 percent in the next 3 years. In his speech at the fair, Temsa CEO Tolga Kaan Doğancıoğlu stated that Temsa is one of the companies that first noticed the sustainability and digitalization-oriented transformation in its sector and said, "Today, we are one of the rare companies in the world that has launched 5 different electric vehicles in different segments. In addition, with our LD SB E vehicle, we are proud to have produced the continent's first intercity electric bus as a European company. We aim to make one of every two vehicles out of our production facility electric in 2025," he said. LD SB E can be offered to consumers in two different options, 12 or 13 meters. The vehicle, which has a passenger capacity of 63 people, shows the expected performance in all road conditions thanks to its 250 kW electric motor. Offering 3 different battery capacity options, 210, 280 and 350 kWh, the range of the LD SB E can reach up to 350 kilometers under suitable conditions. The vehicle can reach full charge capacity in about 2 hours.
Karsan also started the hydrogen age at the fair
Okan Baş, CEO of Karsan, which made the world launch of e-ATA Hydrogen in Germany, said, "As Karsan, we have once again demonstrated our leading role. We are starting a new era in public transportation by stepping into hydrogen fuel technology. After 6 meters of e-JEST, 8 meters of electric and autonomous e-ATAK and 10-12-18 meters of e-ATA in the last 5 years, we have now commissioned our hydrogen powered e-ATA vehicle of 12 meters. In this sense, we took another step in sustainable transportation by acting as a pioneer and expanding our product range. With our vision of 'One Step Ahead in the Future of Mobility', we developed and introduced our electric hydrogen fuel cell vehicle of the future to the world." The low-floor 12-meter e-ATA Hydrogen draws attention with its 1.560 liter lightweight composite hydrogen tank located on the roof, and offers a range of over 500 km under real usage conditions.
"Leadership in Transformation"
Özyurt said, "In the automotive industry, we have been working hard for a long time for connected, autonomous technologies, especially zero-emission vehicles, in parallel with agreements such as the Paris Climate Agreement, the EU Green Agreement and ACEA. These efforts take us further and we lead the electric transformation in all segments. Turkey's most advanced R&D We have achieved many firsts since the past with our center and the most competent engineers. Today, we are proud of breaking new ground with our 100% electric truck and presenting our innovative technologies to you." Serhan Turfan, Deputy General Manager of Ford Otosan global brand Ford Trucks, stated that they are currently in 43 countries and they plan to reach 50 countries in 2024.
Aim; zero emissions
Turfan said, "With our electric truck, which we launched today, we share with you not only our vision for the heavy commercial industry of the future, but also our leading position in terms of design and technology. Today, we are one of the few brands that develops and manufactures domestic engines, transmissions and axles and all the powertrains of a vehicle. We are moving forward with the support and inspiration of our current strength for the transformation that we started under the name of Generation F, which includes zero emission, connected and autonomous technologies. In 2030, we aim to generate half of our sales in Europe from zero-emission vehicles. In order to achieve this goal, we are here with Ford Trucks' first electric truck, which is the result of our product development and engineering competencies."
Mercedes Benz Turk exhibited Actros L
In addition to the truck models it exhibited, Daimler Truck introduced its innovative solutions that shed light on the future. In this context, Mercedes-Benz Türk presented the Actros L model produced at the Aksaray Truck Factory to the visitors at the fair. Daimler Truck exhibited many trucks at the fair, especially Mercedes-Benz Actros L, Mercedes-Benz eActros LongHaul, Mercedes-Benz eActros 300 and Mercedes-Benz GenH2 models. Produced at the Mercedes-Benz Türk Aksaray Truck Factory, the Mercedes-Benz Actros L aims to set new standards in the premium diesel truck segment.
Electric Big E surprise from Anadolu Isuzu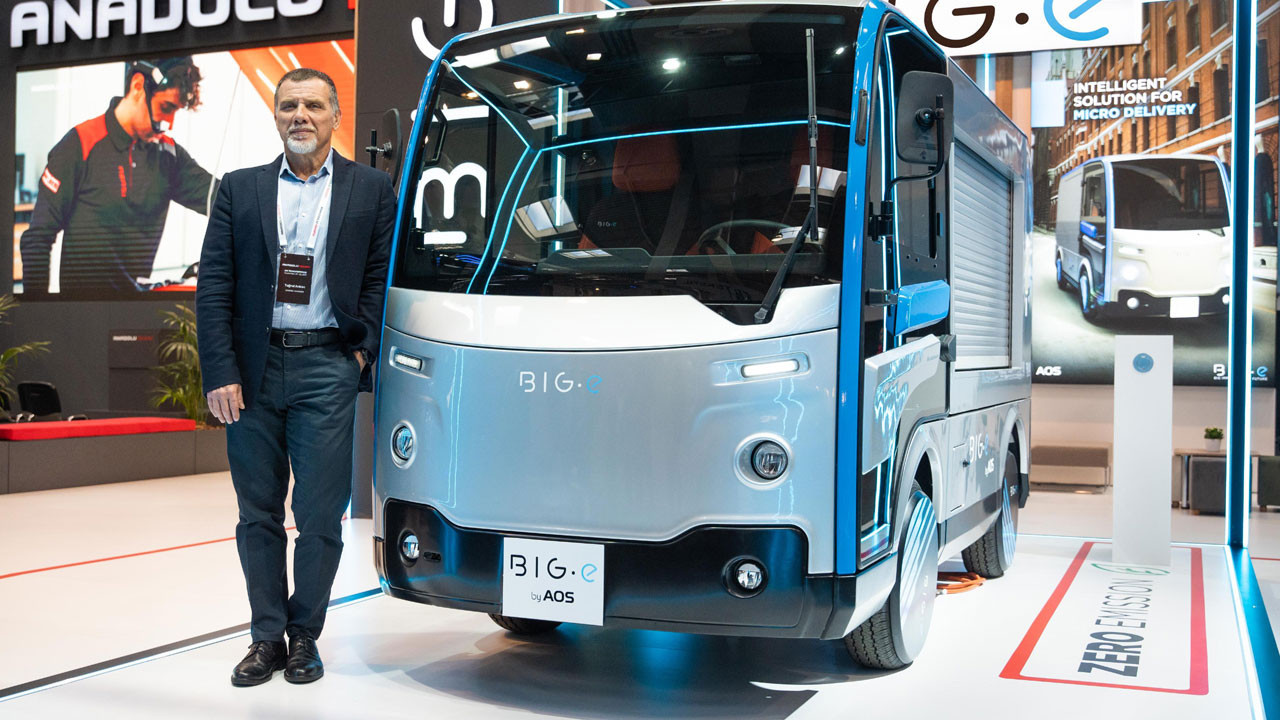 Commercial vehicle manufacturer Anadolu Isuzu left its mark on IAA Transportation with its new all-electric vehicle Big.e. Big·e, designed and produced entirely in Turkey, meets an important need in the "last kilometer" transportation needs of cities with its compact structure and innovative electric motor. Big·e, which has a volume of approximately 4 cubic meters and a carrying capacity of up to 1000 kg, offers a range of up to 150 kilometers with three different battery capacities. One of the biggest advantages of Big·e, which will be offered in two different versions with maximum speeds of 60 km/h and 80 km/h, is that it can be charged via a standard socket just like a mobile phone. Big·e Anadolu Isuzu, which can reach a full charge capacity between 3 and 5 hours, will be produced at Isuzu's production facilities in Çayırova, with Isuzu quality standards, and will be available for sale as of 2024. Making a statement about Big.e at the fair, Anadolu Isuzu General Manager Tuğrul Arıkan said, "The game is changing rapidly in commercial vehicles and we, as one of the playmakers, demonstrate our strength, experience and claim with Big·e. Big·e, which we have developed in accordance with the needs of large cities and businesses in many business lines, stands out with its ideal dimensions that meet business needs, both power and practical features.
Volkswagen, ID. Out with BUZZ Cargo and the new Amarok
Volkswagen Commercial Vehicles exhibited its new models at IAA Transportation 2022, while visitors ID. They had the opportunity to meet BUZZ Cargo closely for the first time. At the same time, the New Amarok was presented to consumers for the first time at the fair.