business
Deutsche Bank: Recession is inevitable in Germany
Sewing, the bank's CEO, pointed to the danger of recession. "If inflation stays high, tensions rise," he said, warning of his country's dependence on China.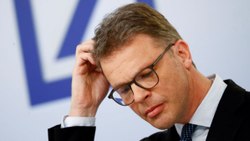 Rumors of a recession in the economy in Germany are increasing day by day.
In the statement made by Deutsche Bank, the country's largest bank, attention was drawn to this danger.
Deutsche Bank CEO Christian Sewing warned that a recession (recession) is inevitable in Germany and stressed that his country must quickly reduce its dependence on China.
"We will not be able to prevent the recession in Germany"
Speaking at the Handelsblatt Banking Summit in Frankfurt, Sewing said: "We will no longer be able to prevent a recession in Germany. Still, we believe our economy is resilient enough to handle this recession well, provided central banks act quickly and decisively." used the phrases.
"If inflation stays high, tension rises"
sewing, "The longer inflation stays high, the greater the potential for tension and social conflict." said.
Referring to the relations of Europe's largest economy with China, the German executive said that when it comes to addiction, "they had to face the strange question of how to deal with China".
Deutsche Bank CEO: China has become 'the cornerstone' of our economy
"China has become 'the cornerstone' of the German economy." said Sewing, pointing out that the increasing Sino-US tension poses a significant risk for Germany.
According to CNBC, China accounts for about 8 percent of Germany's exports and 12 percent of its imports.