world
Chinese vase sold at auction in France for 7.7 million euros
The France-based auction house announced that the vase, which was initially priced at 2,000 euros, was sold for 7.7 million euros at an auction held in Paris.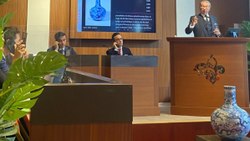 A woman in France contacted auction officials and asked her family to sell a Tianqiu-ping-style vase, which is a Chinese heirloom.
It cost 9.1 million euros
At the auction held in Paris on 1 October, the vase was sold after a heated auction for 7.7 million euros.
It was also stated that the vase costs 9,121 million euros with expenses.
The price of 2 thousand euros was determined.
It was stated that the Tianqiu-ping style vase belonging to the Chinese culture, in blue-white color, on which nine wild dragons and clouds were depicted, was shown to an expert by the auction house, and the expert stated that the vase was from the 20th century and priced between 1,500 and 2 thousand euros.
Receiver from China
The auction house said buyers believed the vase was from the 18th century. In the statement of the auction house, he noted that when he bought the vase in their catalog for sale, he received great attention from Chinese buyers and that some Chinese buyers came to see the vase in person. The vase was taken by a Chinese who contacted by phone, whose name has not been disclosed.