Has the current catalog of Bim 16 September, followed with interest by the citizens, been published? Which products will Bim introduce to consumers this week? Here is the current catalog of Bim September 16, where you can find the answers to all your curious questions…
With the publication of the current catalog of Bim 16 September, which consumers are eagerly waiting for every Friday, they immediately identified their shortcomings. Here are the details of Bim September 16 current catalogue;
DAWN GIRLS AT WORK
Benante 9-piece breakfast set 199 TL, Benante bowl for breakfast 139 TL, Aurora tea set 12-piece 129 TL, Footed dessert bowl 11 TL, Lava sugar bowl / jam bowl 24.50 TL, Metal lid oiler / vinegar bowl 39.50 TL, Footed cake plate 79 TL, 6 +1 CAKE SERVICE SET 109 TL, Two-layer cookies 89 TL, Glass bowl 39 TL, Patterned cutting board 69 TL, Turntable 169 TL, Large serving plate types 109 TL, Dustpan and soap dish types 6.50 TL, Heating comb brush 12.50 TL, Measured citrus juicer will take its place on the shelves at 24.50 TL.
DO NOT EXCEED THIS PRODUCT AT THIS PRICE
Small suitcase 279 TL, Medium suitcase 449 TL, Large suitcase 599 TL, Lifestyle sneakers 139 TL, Discover your color game 79.50 TL, Ballerina baby 79 TL, Luna's bike 69 TL, Beauty salon 109 TL, Disassemble dinosaurs 59 TL, yellow construction equipment 34.50 TL, wooden toy vehicles 24.50 TL will be offered for sale.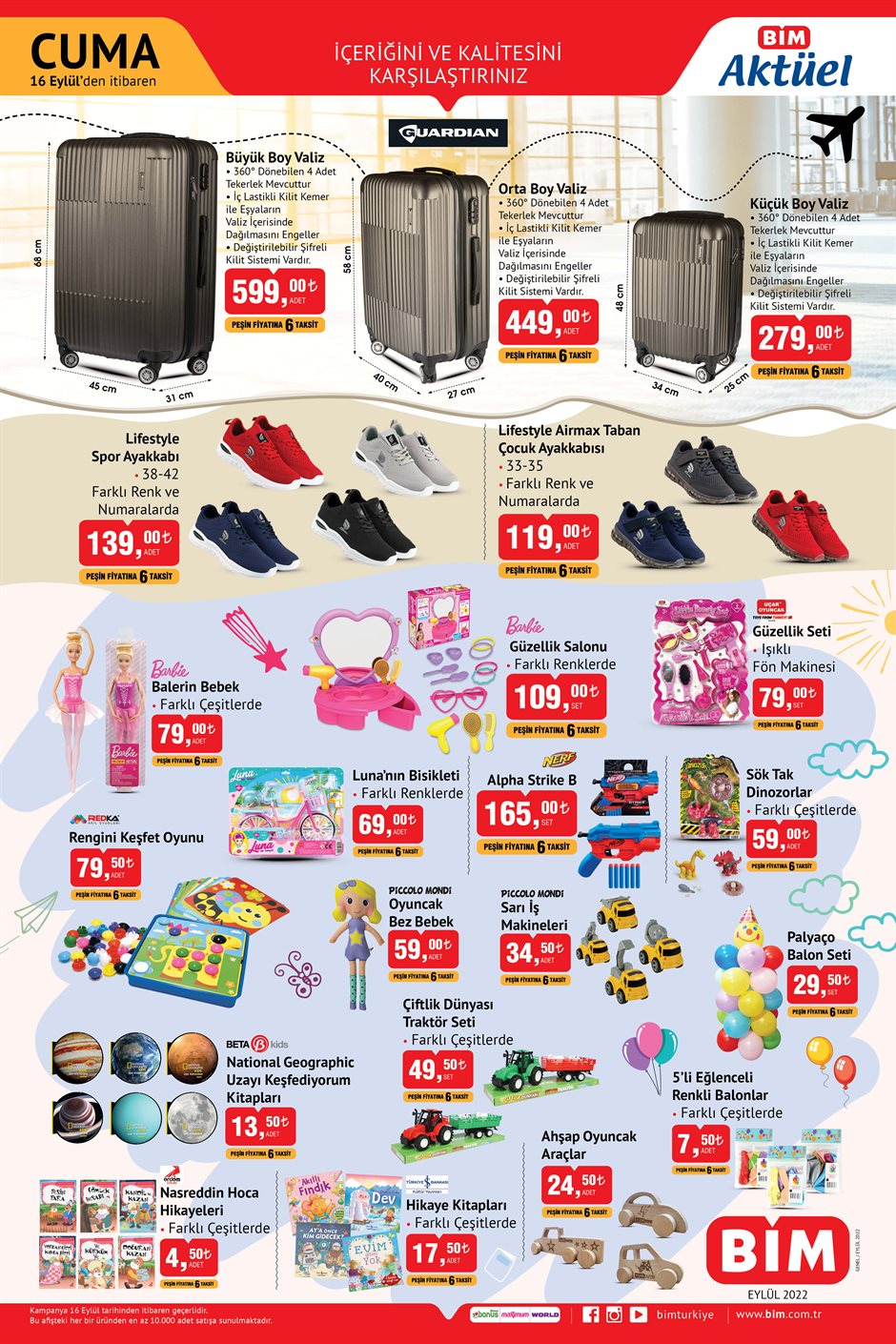 CARRY WICKED STYLISH INTO YOUR HOME
Photo frame 39.50 TL, Decorative ladder 149 TL, Decorative mirror 109 TL, Console 999 TL, Straw pattern woven floor carpet 349 TL, Straw pattern filled cushion 34.50 TL, Wicker pattern woven floor runner 109 TL, Large jute box with lid 129 TL, 4 jute inside drawer organizer will be on sale for 69 TL, tassel jute box for 59 TL, and oval straw bread organizer for 89 TL.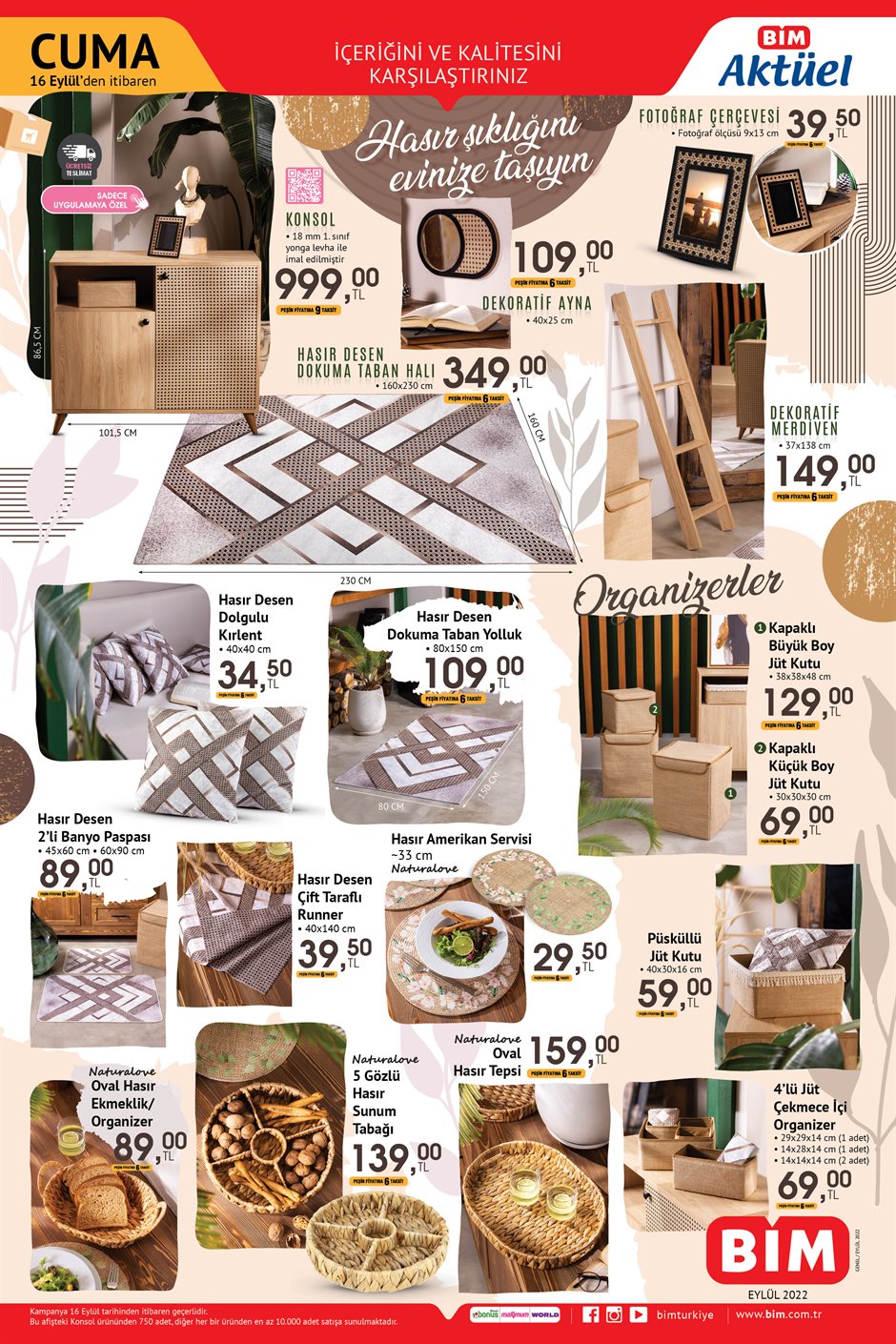 ASK FROM ELECTRONIC BİM
Philips airfryer 3,599 TL, Dijitsu mobile phone 2,999 TL, Philips steam iron 699 TL, Dijitsu 65 inch TV 7,499 TL, Kumtel glass built-in set 3,599 TL, Dijitsu 32 inch tv 1,999 TL, Polosmart smart watch 139 TL, Keysmart double knife chopper 349 TL , Magnetic elliptical bike will be on sale for 2.499 TL, Philips men's grooming kit for 199 TL, Nostalgia radio for 499 TL, Polosmart tws earphones for 179 TL, Digital scale 149 TL, Rechargeable carboy pump for 69 TL.