While the reactions to the pension reform in France continued, the bakers, who stated that they had a hard time due to the increasing electricity and raw material prices, went out on the streets in Paris, the capital of France. The bakers gathered in Nation Square in the capital and marched to the Ministry of Finance.
Bakers claimed that they could not afford electricity and raw material prices, as well as compulsory premiums and taxes imposed by the government, such as unemployment and pensions for working workers.
The bakers, who were walking with baguettes and French flags in their hands, reacted to the government with a lifeless mannequin they hung on the gallows and the coffin they brought.
Lucette Devale, who participated in the demonstration, said, "I joined the show today. I have a job, I can bring bread to my house. I make a living thanks to the bakery where I work. If my boss closes the bakery, I will be unemployed, I will not be able to bring bread to my house. What the Macron government has done is not acceptable, I do not want the bakery I work to close. I support my boss. I'm here to give."
A young bakery worker participating in the show said, "We FranceAs all baker's apprentices in , we support our bosses. While many things were increased, the government made a 15 percent increase in baguettes, no bakery can afford it, but the government does not think about them."
participating in the protest baker In their statement, the couple said, "As baker shopkeepers in Paris, I am reminded of the hikes in electricity prices. protest we are here to do. We see electricity bills multiplied by 2.5 or even 10. Flour, butter, sugar prices have increased, we have to use them for the products we produce. A 5 percent to 10 percent drop in bakers' income is certain. But the prices of our products do not increase as much as the prices of raw materials or energy. If we wanted to pass on all these increases, we would have to double the price of our products in stores. This is not possible. If we double the price of the baguette, we'll sell fewer drumsticks. We need fewer employees. But we want to keep all our employees," he said.
The couple, who stated that they normally raise 5 cents a year on baguette bread, stated that they could not invest in the equipment they use and renew their machines due to electricity and raw material prices.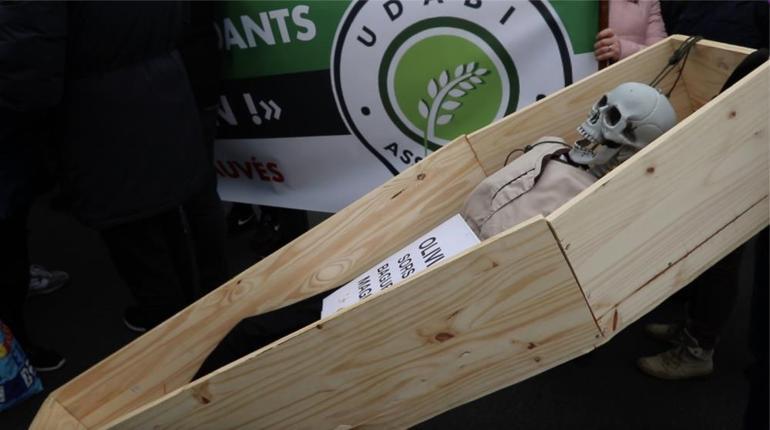 .