world
After Putin's declaration of partial mobilization, many Russians came to Antalya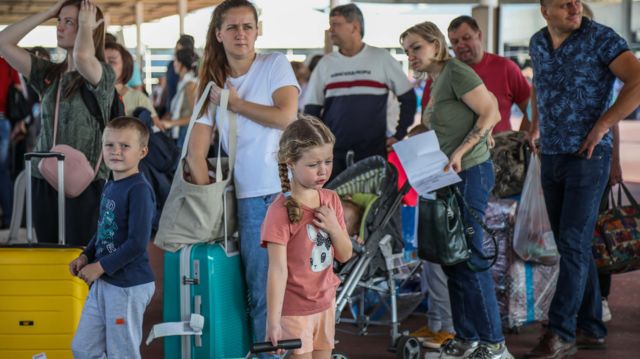 After the announcement of partial mobilization by Russian President Vladimir Putin, which ordered the immediate recall of 300,000 reservists for the Ukraine war, those who wanted to leave the country formed long queues at the borders.
Flight ticket prices to countries such as Turkey and Serbia, which can be visited without a visa from Russia, have increased.
While it was getting harder and harder to find a place on Antalya flights with airline companies, ticket prices were many times higher than the monthly averages.
According to DHA, the officials of tour operators that bring tourists from Russia to Antalya said that some Russian airline companies have banned ticket sales for men aged 18-65 who are eligible for military service.
Flight ticket prices to cities such as Istanbul, Belgrade and Dubai increased after the mobilization announcement, and tickets were sold out in some directions.
The Kremlin said reports that war-age men were trying to escape were exaggerated and misinformation should be avoided.
However, vehicle queues formed for kilometers on the Georgian border. There were also men in the vehicles trying to escape the war.
A man who spoke to the BBC, who did not want to be named, says that after Putin's statement, he took his passport and went to the border without collecting anything. Because it belongs to the group of those who are likely to be sent to war.
Some eyewitnesses say that the line of vehicles at the Upper Lars checkpoint on the Russia-Georgia border continued for 5 kilometers, while another group said it took seven hours to cross the border.
In the videos taken from the region, it is seen that some drivers leave their vehicles.
Georgia is one of the neighboring countries that do not require visas from those coming from Russia.
Finland, which has a 1,300-kilometer border with Russia, reported a manageable traffic increase at night, even though it requires a visa.
Reuters news agency reported that a truck driver crossing the border with Kazakhstan said that traffic was heavy on the Russian side.
"If necessary, I'll break my arm and leg, I'll do anything to avoid being drafted"
The Kremlin said that only those who have completed their military service, have special skills and combat experience will be called up for military service.
But people are still worried, because evading military service is a criminal offense in Russia.
Many men in Russia are looking for ways not to be drafted. Vyacheslav, who lives in Moscow, says that he and his friends started to seek help from his contacts working in the health field:
"Mental health or drug addiction treatment seems like good, inexpensive, and perhaps even free options.
"If you drive while you're high and get arrested, I hope you get your license taken away and you have to be treated. You can't be sure, but I hope that's the case. [orduya] It's enough to not be taken."
His brother-in-law narrowly escaped the military because he was not at home when the officers arrived. His mother had seen the summons summoning him to duty between September 19 and 23.
Vyacheslav replied, "Now she has locked herself in a room and refuses to go out. She has two small children, one three and one one year old; what else can she do?" says.
Another man from Kaliningrad tells the BBC he will do anything to avoid being drafted:
"I will break my arm, my leg, I will go to jail, I will do whatever it takes to avoid all this…"
II. A first after WWII
Reuters also wrote that Russia declared mobilization for the first time since the Second World War. He stated that the prices of one-way air tickets from Moscow to nearby countries have increased to 5 thousand dollars, and that most airline tickets have been completely sold out for the coming days.
After Russia's statement, protests were held in major cities such as Moscow and St. Petersburg, and it was reported that 1,300 people were detained.
The British Foreign Ministry said in a statement yesterday that the mobilization was not well received in some parts of Russia. "Putin accepted a possible political risk in hopes of providing the needed fighting force," it said.
However, even if this call is successful, it will take several months for the new units to be mobilized to be ready for battle.
Russian officials insist that the call will be limited to those with professional military experience.
However, there is speculation that the mobilization in Russia may be wider than announced.
The independent Russian newspaper Novaya Gazeta, which moved its administration to Europe, wrote that Putin's decision contained an extra paragraph and that it was kept secret. In this paragraph, he stated that there is information that 1 million people will be summoned, not 300 thousand.