Luiz Inacio Lula da Silva, who won the presidential elections held in Brazil on October 30, took his oath at the ceremony held at the National Congress in the capital Brasilia. Lula, who served as president of Brazil for 2 terms between 2003 and 2011, was reinstated after a 12-year hiatus. President it happened.
PELE AND PAPA BENEDICT REMEMBERED
While Brazilians showed great interest in Lula's swearing-in ceremony, tens of thousands of people gathered in Tres Poderes Square near the National Congress and watched Lula's swearing-in ceremony live on the giant screen. During the ceremony, Brazilian football star Pele, who died last Thursday, and Pope XVI, who died yesterday. A minute's silence was held in honor of Benedict.
King of Spain VI. Delegations from more than 50 countries participated, with Felipe and other states and governments of 20 countries, including Portugal, Germany, Argentina, Colombia, Chile, Bolivia, Ecuador, Paraguay and Uruguay. Minister of Foreign Affairs Mevlüt Çavuşoğlu, representing Turkey, took part in the ceremony.
Lula came to the ceremony held at the National Congress, with his wife Rosangela da Silva, Vice President Geraldo Alkmin and his wife Maria Lucia Ribeiro, in an open-top Rolls Royce brand executive car, greeting the public.
"WE RESPOND TO HATE WITH LOVE"
In his first speech after taking the oath, Lula emphasized the victory of democracy in Brazil and gave a message of unity. Referring to the far-right government of his predecessor, Jair Bolsonaro, left-wing Lula said: "We will defend the administration we took over from our fascist-inspired opponents with the powers conferred on democracy by the constitution. We will respond to hate with love, lie with truth. "We will respond to terrorism and violence with the law and its most severe consequences," he said.
Arguing that the previous government emptied health resources, shattered education, culture, science and technology, and left no resources for school meals, vaccinations and public safety, Lula stated that they inherited a terrible picture. Arguing that it is not possible for any country to develop without overcoming the misery of the people, Lula assured that the social support programs in the country will be renewed and made stronger and more equitable to serve those most in need. Lula stated that the first actions of the government will be to save 33 million people in the country from hunger and more than 100 million citizens from poverty.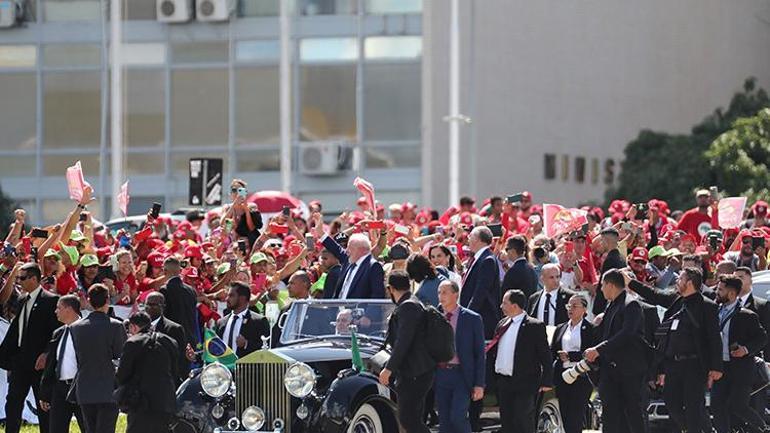 LULA Accused BOLSONARO of Genocide
"We do not hold any spirit of vengeance against those who try to subdue the nation to their personal and ideological calculations, but we will guarantee the rule of law. Those who err will be held accountable," said Lula, without mentioning Bolsonaro's name. Lula, who accused the Bolsonaro administration of committing "genocide" by not responding properly to the Covid-19 epidemic that killed more than 680,000 Brazilians, said: "Those responsible for this genocide should be investigated and not go unpunished." Touching on the protection of the environment in his speech, Lula indicated zero deforestation in the Amazon forests and zero greenhouse gas emissions in electricity generation as the primary goal, and said that his country does not need deforestation for its agricultural development. Lula said Bolsonaro would repeal dozens of executive orders that loosened firearm laws and led to a sharp increase in armaments.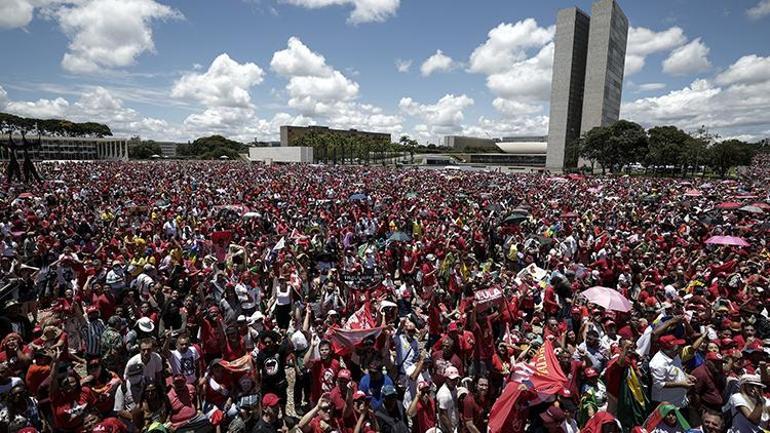 "Brazil DON'T WANT MORE WEAPONS, HE WANTS PEACE AND SECURITY FOR THEIR PEOPLE"
In addition, arguing that his country should establish more alliances to have more power, Lula stated that they will be in an active dialogue with the USA, the European Union (EU) and China.
THE MINISTRY OF WOMEN IS RE-ESTABLISHED
Stating that it is unacceptable for women in her country to be exposed to violence and harassment at home, in the workplace and on the street, Lula announced that the Ministry of Women was re-established in order to destroy this inequality and prejudice. He took the presidential belt from human rights defenders and indigenous peoples' representatives
Lula, who came to the Planalto Palace after his speech at the National Congress, received the presidential belt here. Lula, who, according to the tradition of the country, should take the belt from former President Jair Bolsonaro at the ceremony, took the belt from a group of human rights defenders and representatives of the indigenous people, as Bolsonaro left for the United States before completing his term. Bolsonaro, who previously announced that he would not attend Lula's swearing-in ceremony, went to the United States last Friday.
Lula, who made a speech to the public at the Planalto Palace, will then meet with senior foreign government officials attending the ceremony at the palace. Afterwards, Lula, who will attend the swearing-in ceremony of the country's 37 new ministers, will finally go to Itamaraty Palace, where a reception for foreign heads of state and government will be held in the evening.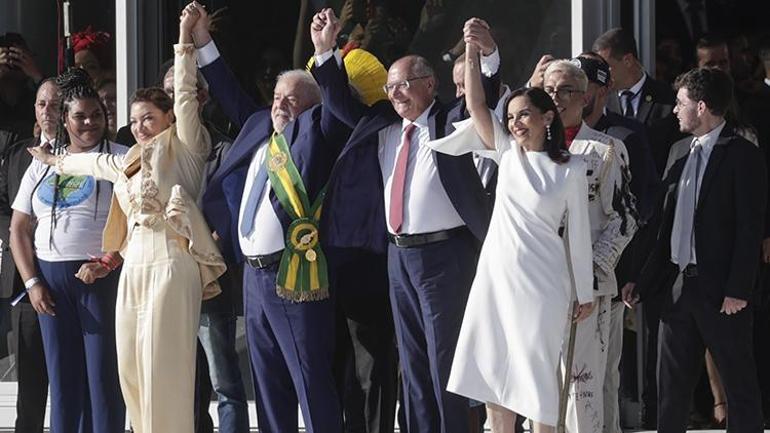 ARMED PERSON ATTEMPTING TO ENTER THE Oath Ceremony IS DETENTION
Also, Lula's oath After the ceremony, public concerts were held on stages set up in different parts of the capital Brasilia for celebration purposes, and it was reported that the events would continue until midnight. The gunman who tried to enter Lula's swearing-in ceremony was detained. A person who tried to enter the square where Lula's swearing-in ceremony would be held with a knife, fireworks and a gun was detained by the police.
.